Cutmaster C - The Hood News: Freestyle Edition
Submitted by romeo on Sat, 10/07/2006 - 8:29am.
General | Cutmaster C | Mixtape Torrents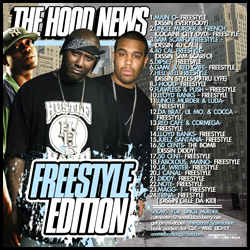 Cutmaster C is back in the hood and this time his Hood News mixtape is
bringing you the rawest element of hip-hop: the freestyle.
Because so much goes on with freestyles (emcees get dissed, stories get
told, and current events get aired out), there's no better meter for
Hood News than a freestyle. This is the Freestyle Edition of C's weekly
dose of hip-hop news.
This mixtape features freestyles and beat-jackings from Diplomats, Lloyd
Banks, The Game & Red Cafe, Fabolous, 50 Cent, Juelz Santana, Uncle
Murder, Sam Scarfo, Cormega, J.R. Writer, Flawless, Maino and others.
01 - Maino - Freestyle
02 - Uncle Murder & French - Freestyle
03 - Sam Scarfo - Freestyle
04 - 40 Cal - Freestyle
05 - Dipset - Freestyle
06 - Game & Red Cafe - Freestyle
07 - Hell Rell - Freestyle
08 - J Hood - Freestyle
09 - Flawless & Push - Freestyle
10 - Lloyd Banks - Freestyle
11 - Uncle Murder & Luda - Freestyle
12 - Da Brat, Lil Mo & Coco - Freestyle
13 - Red Cafe & Cormega - Freestyle
14 - Lloyd Banks - Freestyle
15 - Juelz Santana - Freestyle
16 - 50 Cent - The Bomb
17 - 50 Cent - Freestyle
18 - Fabolous & Maino - Freestyle
19 - J.R. Writer - Freestyle
20 - J Canal - Freestyle
21 - Diddy - Freestyle
22 - Note - Freestyle
23 - Magg 1 - Freestyle
24 - Trina - Freestyle
How To DOWNLOAD