Cutmaster C - The Hood News: 50 Cent vs. Diddy (I Run Hip-Hop)
Submitted by mfizzel on Fri, 09/15/2006 - 6:44am.
East Coast | Cutmaster C | Mixtape Torrents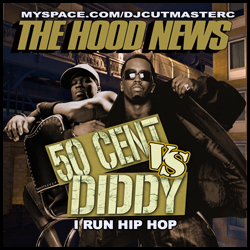 Cutmaster C brings you the latest edition in
his long line of The Hood News mixtapes,
bringing you a lethal combination of
hard-hitting hip-hop + the rumors and events
in the world of hip-hop.
The theme for this go-around is obviously 50
Cent vs. Diddy, the highly publicized spat
between the two hip-hop moguls. Five years
ago, who'd guess dudes would be fighting over
rights to Mase's 16s?
This mixtape features new and exclusive diss
tracks + heat from Uncle Murder, Ludacris,
Lloyd Banks, 50 Cent, Hod Rod, Young Buck,
Fat Joe, The Game, Jay-Z, Ransom, Lil' Wayne,
Cassidy, Hell Rell, Tru Life, Red Cafe and more.

1 - Uncle Murder- I Run Hip Hop Intro
2 - Ludacris feat. Uncle Murder- Cannon Freestyle
3 - Pepsi Smash- Lloyd Banks, Hot Rod, Yayo, M.O.P., Freeway
4 - Game- The Funeral (Dissin' G-Unit)
5 - Young Buck feat. Yayo- Don't Make Me Hurt U
6 - Lloyd Banks- State 2 State
7 - Lloyd Banks- Survivor
8 - Lloyd Banks- Mr. Me Too
9 - 50 Cents, Hot Rod, Yayo- Get Down (Dissin' Diddy)
10 - Diddy- Press Play (Answering 50 Cent)
11 - 50 Cent- Hip-Hop (Dissin' Diddy)
12 - Operation- Los feat. Uncle Murder
13 - Hot Rod Freestyle
14 - Red Cafe feat. Newz, Main O- Hat To The Back
15 - Lil' Wayne, Juelz Santana, T.I.- Rubber Burnin
16 - Ransom feat. Lil' Wayne, Rick Ross- Run It
17 - Fat Joe feat. Lil' Wayne- Make It Rain
18 - 50 Cent feat. Fergie- London London
19 - Civilize- Freestyle (Trues Stories DVD #6)
20 - Beyonce feat. Jay- Z- Upgrade U
21 - Tru Life & Memphis Bleek Freestyle
22 - Hell Rell- Freestyle (Dissin' Styles P, Tru Life)
23 - Cassidy- It Is What It Is
24 - Game feat. Juice- We Gorillaz (Dissin G- Unit)
25 - 50 Cent & Omarion- Entourage
How To DOWNLOAD