Tapemasters Inc - Live From The Booth: Flows Collection
Submitted by mfizzel on Wed, 09/06/2006 - 5:50am.
General | Tapemasters Inc | Mixtape Torrents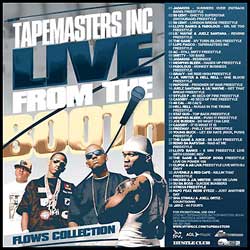 A freestyle is one of the realest ways to break down an emcee. Tapemasters Inc. goes
LIVE to the booth to take lessons from some of the baddest freestylers in the mixtape
game and hip-hop.
This mixtape features a collection of 38 flows, freestyles, beat-jackings – whatever
you want to call it. From Jadakiss (#1 - "Summer's Over (Fatback Band)") to
Jay-Z (#38 - "44 4's"), this mixtape has all the hottest freestyles.
Featuring 16's from 50 Cent, Lupe Fiasco, The Game, Lloyd Banks, Cassidy, Lil' Wayne &
Juelz Santana, Fabolous, Papoose, The Clipse & Ab Liva, Joe Budden, Freeway, Stat Quo
and more.

1 - Jadakiss - Summers Over (Fatback Band) Freestyle
2 - 50 Cent - Ghetto Superstar (Entourage) Freestyle
3 - 50 Cent - London Bridge Freestyle
4 - Lloyd Banks & Fabolous - Mr. Me Too Freestyle
5 - Lil' Wayne & Juelz Santana - Rewind Freestyle
6 - The Game - My Turn (Blow) Freestyle
7 - Lupe Fiasco - Tapemasters Inc Freestyle
8 - AC - Still Dirty Freestyle
9 - Smitty - 100 Bars
10 - Jadakiss - Reminisce
11 - Memphis Bleek - Hands Up Freestyle
12 - Fabolous - Monkey Business Freestyle
13 - Gravy - We Ride High Freestyle
14 - J.R. Writer & Hell Rell - One Blood Freestyle
15 - Papoose - Prisoner Of War Freestyle
16 - Juelz Santana & Lil' Wayne - Get That Bread Freestyle
17 - Styles P - 40 Secs Of Fire Freestyle
18 - Cassidy - 40 Secs Of Fire Freestyle
19 - 40 Cal - 40 Cal's
20 - Hell Rell - Rugas In The Trunk Freestyle
21 - Stat Quo - Top Back Freestyle
22 - Memphis Bleek - Push It Freestyle
23 - Joe Budden - Do What Cha Like
24 - Cassidy - It Is What It Is
25 - Freeway - Philly Shit Freestyle
26 - Young Buck - Let Em Hate (Kick Push) Freestyle
27 - The Game & Juice - Be Easy Freestyle
28 - Remo Da Rapstar - Mad At Me Freestyle
29 - Lloyd Banks - 8 Min Freestyle
30 - The Game & Snoop Dogg Freestyle
31 - Clipse & Ab Liva Freestyle
32 - Juvenile & Red Cafe - Killin That Freestyle
33 - Wicked & J.R. Writer - How We Livin
34 - Su Da Boss - Suicide Bombers
35 - Stress Freestyle
36 - Papo feat. Redd Eyezz - Just Another Day
37 - Sha Stimuli & Joell Ortiz - Countdown
38 - Jay-Z - 44 Four's
How To DOWNLOAD