Cutmaster C - Guess Who's Back?
Submitted by mfizzel on Sat, 01/14/2006 - 5:04pm.
Mixtape Directory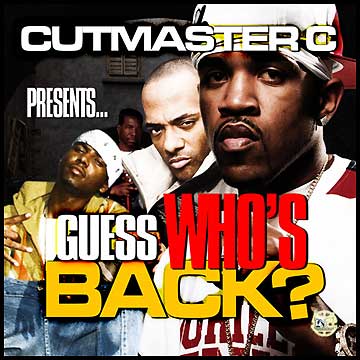 Cutmaster C is back, and is still on his grind as he gathers up the
latest hip-hop joints & exclusives. This mixtape has 26 tracks that
include new freestyles and remixes. This features music from Busta
Rhymes, 50 Cent, Lloyd Banks, Uncle Murder, Juelz Santana, Hell
Rell, Joe Buddens, Red Cafe, Obie Trice, Gravy and Mary J Blige.

1 - 2006 - Intro
2 - 50 Cent feat. M.O.P. & Lloyd Banks - 50 This, 50 That
3 - Mobb Deep & Termonology- Score Everytime
4 - Uncle Murder - We Thuggin'
5 - Lloyd Banks - Nobody Likes Me
6 - Hell Rell - Freestyle
7 - Juelz Santana - Good Times
8 - 50 Cent - Best Friend
9 - Uncle Murder - Get High
10 - M.O.P. & Cormega - 718 To Bedstuy
11 - Busta Rhymes - Touch (remix)
12 - Lloyd Banks -My Hood
13 - Gravy - Freestyle
14 - Joe Buddens - Story To Tell
15 - Tony Yayo feat. Mobb Deep - Gang Bang
16 - Obie Trice - You've Been Slain
17 - Lloyd Banks - Victom Of Society
18 - Red Cafe feat. Tito - I'm A Ho
19 - Joe Buddens - Mic Check
20 - Flawless - Woke Up
21 - Mobb Deep -Yeah, Yeah
22 - Mary J. Blige feat. Gravy - Be Enough (remix)
23 - Chris Brown feat. Red Cafe - Yo (remix)
24 - Juelz Santana - Rumble
25 - Mobb Deep -Talkin' Side Ways
26 - V feat. Juelz Santana - What Happens In The Club (BET's 106 & Park Freestyle Champion)
27 - Lucky feat. Mike Lory - Freestyle
How To DOWNLOAD