DJ Benzi & Evil Empire - The Clipse: We Got The Remix
Submitted by mfizzel on Thu, 05/25/2006 - 6:58am.
East Coast | Evil Empire | Mixtape Torrents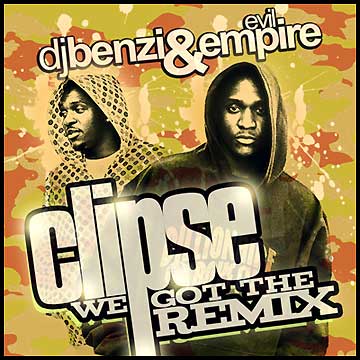 Ask us if we fuck with The Clipse and we'll politely laugh in your face.
Do WE fuck with The Clipse? You gotta be kidding. After collaborating
with Virginia siblings Malice & Pusha T to put the Re-Up Gang and the
We Got It 4 Cheap mixtape series on the map, we are excited to bring
you the brainchild of DJ Benzi. A year in the making, this new Clipse
re-mixtape brings you a collection of the hottest cats remixing the fam.

1 - Clipse Introduction
2 - You'll See (Dainjah remix) feat. Pharrell
3 - Mr. Me Too feat. Pharrell
4 - I Shot Ya!! (The Amps remix)
5 - DJ Green Lantern Freestyle
6 - Coast II Coast (Jake One & Dainjah remix)
7 - See The Light (Benzi refix)
8 - Sweet Like Lick-Erish feat. Fresh (We Got That...remix)
9 - Dopeman (remix) feat. Hotwright (We Got That...remix)
10 - Lil G's feat. Pharrell & Philly's Most Wanted (We Got That...remix)
11 - Re-Up Anthem (Nick Catchdubs remix)
12 - Itchin' To Get Ya feat. Rosco P Coldchain
13 - Cross The Border (A Brucker & Sinden remix)
14 - Hard Or Soft (Joey Fingaz Freestyle)
15 - Crew Deep (remix) feat. Missy Elliot & Pharrell (We Got That...remix)
16 - Hitman 4 Hire feat. Red Cafe (We Got That...remix)
17 - Double Down feat. Vybz Kartel (produced by Disco D)
18 - Drop It (Les Biches remix)
19 - Do What You Do (remix) feat. Drake (We Got That...remix)
20 - Quaterbackin' (DJ Quik remix) feat. E-40
21 - You Know My Style (Al Sween remix)
22 - This Beat Is Hot feat. Rosco P Coldchain (We Got That...remix)
23 - Move (remix) feat. Damani & Kardinal Offishall (We Got That...remix)
24 - Stuntin Y'All (Ghislain Poirier remix) feat. Pharrell
25 - Definition Of A Roller (produced by Dame Grease)
26 - Stay From Around Me (MGO remix)
27 - Queen Bitch (Diplo remix)
28 - Get It feat. Amplified ( We Got That...remix)
29 - Money Talks feat. Jiggalo
30 - Re-Up Gang Freestyle (LIVE On Shade 45)
How To DOWNLOAD