DJ 31 Degreez - Georgia Bulldogs Pt. 7
Submitted by mfizzel on Fri, 08/11/2006 - 5:52am.
Dirty South | DJ 31 Degreez | Mixtape Torrents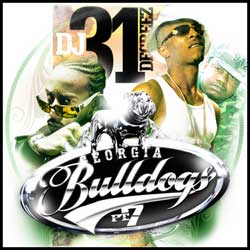 DJ 31 Degreez is back in the state of Georgia
and he's coming at you with another edition of
the trappers' favorite mixtape series Georgia
Bulldogs.
Featuring tracks by Georgia artists, this
mixtape features 25 joints from artists all over
the map, from Savannah to Decatur to Atlanta.
Featuring tracks, freestyles & appearances
from Ludacris, Killer Mike, Jody Breeze, Young
Dro, T.I., Lil' Jon & Lil' Scrappy, Lil' Weavah,
Yung Joc, P$C, Field Mob, Yola The Great and
more.

1 - Ludacris & Pharrell - Money Maker
2 - T.I. & Pharrell - Kickin It [not on album]
3 - Young Dro & Jazze Pha - You Dont See Me
4 - Roam Bad Daddy - Game Spitter
5 - Killer Mike - Juggernaut
6 - Jody Breeze & Lil' Wayne - Rookie Of Year (remix)
7 - Lil' Scrappy & Homebwoi - Nothing Like Me
8 - Chyna Whyte - I Got That (produced by Lil' Jon)
9 - Ludacris - Tell It Like It Is
10 - T.I. - Open Letter [not on album]
11 - Yung Joc - Patron
12 - Lil' Boosie & Yung Joc - Zoom
13 - Crime Mob & Lil' Scrappy - Rock Yo Hips
14 - Jody Breeze - Blow It Down
15 - Lil' Jon, Lil' Scrappy, Lil' Wyte & Kay Slay - Big Problems
16 - Donnie Cross - Everyday Thuggin
17 - Young Dro & Macboney - What Are Those?
18 - Too Short, Snoop Dogg & Will I Am - Keep Bouncin
19 - T.I. & PSC - Pimp Squad Party [not on album]
20 - Lil' Weavah - Georgia State Of Mind
21 - Yola The Great - Aint Gonna Let Up
22 - Ciara & Chamillionaire - Get Up
23 - Field Mob - Baby Bend Over
24 - Ludacris & Pharrell - Money Maker (Instrumental)
25 - Yung Joc - I Know You See It (Instrumental)
How To DOWNLOAD