Lil' Weavah - The Streets Mixtape Vol. 3
Submitted by mfizzel on Sun, 04/23/2006 - 7:29am.
Mixtape Directory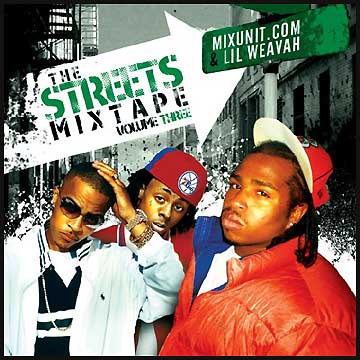 Lil' Weavah has lit up the Georgia scene for a while and the ATL emcee
has accumulated independent Soundscan numbers to prove it. Touted as
the 'top selling independent ATL artist' by some, the ATLien releases his
3rd mixtape with new tracks/freestyles from the 22-year-old Zone 4 MC
+ ATL heat from T.I., Jeezy, Jazze Pha, BoHagon, P$C // B.G., Weezy.

1 - MixUnit & Lil' Weavah Intro
2 - The Yard - Lil' Weavah
3 - What You Know - T.I.P.
4 - Born To Do It - Eva Trill feat. Young Dro [produced by Black Mobb]
5 - Just Another Day - Lil' Weavah feat. Jazze Pha
6 - Black Bill Gates Speaks
7 - Rap Sh*t - Young Jeezy
8 - The Streets - BoHagon
9 - Freaky Things - Lil' Weavah [produced by The Cancer]
10 - I'm Straight - T.I.P. feat. B.G. & Young Jeezy
11 - Lil' Weavah Checks Voice Mail
12 - Cuzz We Poe - Lil' Weavah [produced by J.A.]
13 - DJ Drama & Lil' Weavah Take Over The ATL Streets
14 - Shell - T.I.P. feat. MacBoney & Young Dro
15 - Green 4 Da low - Lil' Weavah feat. BoHagon & Young Jeezy
16 - Ridin Wit A body - Lil' Wayne
17 - Ooh Child - Lil' Weavah
18 - Hood Rich - Lil' Wayne
19 - ATL - Pastor Troy feat. Lil' Weavah & T.I.P.
20 - The Streets Thank The KING
21 - Still I Love Her - T.I.P. feat. P$C & Young Dro [produced by Sapp]
22 - You Don't - Xtaci feat. BoHagon
23 - The Yard Remix - SS
24 - MixUnit & Lil' Weavah Outro
How To DOWNLOAD