DJ Cinema & DJ Mello - Jadakiss: Kiss My Ass
Submitted by mfizzel on Tue, 05/16/2006 - 10:27am.
East Coast | DJ Mello | Mixtape Torrents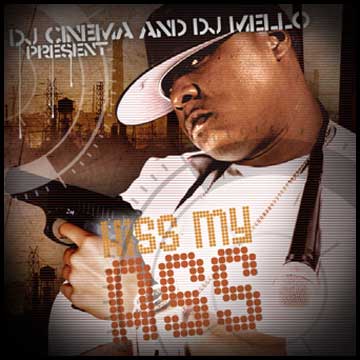 DJ Cinema and his mixtape accomplice DJ Mello take on the leader
of the mighty mighty D-Block on this new blends/remix mixtape of all
Jadakiss tracks. This joint features Cinematic remixes of the hottest
Jada classics reproduced to feature a gang of your favorite artists —
remixes featuring Scarface & Beanie Sigel, Nas & AZ, Fabolous & The
Game, Lil' Wayne, Lil' Kim, Akon, Lil' Jon, Bun B, Twista and Raekwon.

1 - Intro
2 - History feat. Michael Jackson & Jay-Z (Cinema remix)
3 - Dead Or Alive
4 - Unstoppable feat. Tony Gambino
5 - Loyalty feat. Lil' Kim & Jagged Edge (Cinema remix)
6 - Interlude - Jadakiss Talks About His Battle With Beanie Sigel
7 - On The Run feat. Scarface, Akon & Beanie Sigel (Cinema remix)
8 - We Runnin' This Shit feat. Lil' Jon (Cinema remix)
9 - Swangin' feat. Lil' Wayne, Twista & Bun B (Cinema remix)
10 - All Lovely feat. Styles P., Sheek Louch & Raekwon (Cinema remix)
11 - A Hustler's Wifey Feat. Nas, AZ, DC3 & Shelene Thomas (Cinema remix)
12 - Interlude - Jadakiss Picks Up Some Classic Albums
13 - Kiss My Ass
14 - Interlude - The LOX Speak On New Album Live, Suffer, Celebrate, Signing With Def Jam & Jay-Z
15 - The Square feat. Sheek Louch, Styles P. & DMX (Cinema remix)
16 - Everyday Of The Week feat. Kanye West & Craig David (Cinema remix)
17 - The Hate
18 - Interlude - Jadakiss Goes To A Fat Joe Show
19 - Killed 4 Less feat. Fat Joe, Styles P., Sheek Louch & J-Hood
20 - Interlude - Jadakiss Buys 2 Copies Of The Massacre!!!
21 - Testify Feat. The Game, Fabolous, The Game & Ja Rule (Cinema remix)
22 - The Movement Feat. Hell Rell, Juelz Santana & Young Jeezy (Cinema remix)
23 - Forever
24 - Outro
How To DOWNLOAD