Tapemasters Inc. And Keyz - Rap City The Best Of The Booth 2
Submitted by mfizzel on Tue, 11/29/2005 - 5:18pm.
Classic / Old | Tapemasters Inc | Mixtape Torrents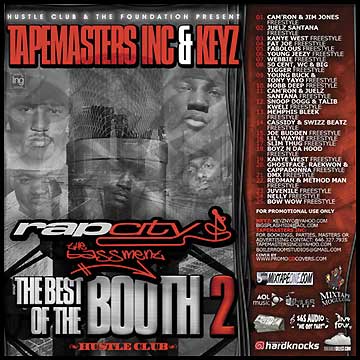 Tapemasters, Inc. and DJ Keyz team up again, to bring you this sequel
and they gather 25 classic freestyles to put on this new mix. This has
beat-jackings from Joe Budden, Kanye West, Young Jeezy, Mobb Deep,
Memphis Bleek, Cassidy, 50 Cent, Jim Jones, Cam'ron & Juelz Santana.

1 - Cam'ron & Jim Jones Freestyle
2 - Juelz Santana Freestyle
3 - Kanye West Freestyle
4 - Fat Joe Freestyle
5 - Fabolous Freestyle
6 - Young Jeezy Freestyle
7 - Webbie Freestyle
8 - 50 Cent, WC & Big Tigger Freestyle
9 - Young Buck & Tony Yayo Freestyle
10 - Mobb Deep Freestyle
11 - Cam'ron & Juelz Santana Freestyle
12 - Snoop Dogg & Talib Kweli Freestyle
13 - Memphis Bleek Freestyle
14 - Cassidy & Swizz Beatz Freestyle
15 - Joe Budden Freestyle
16 - Lil' Wayne Freestyle
17 - Slim Thug Freestyle
18 - Boyz N Da Hood Freestyle
19 - Kanye West Freestyle
20 - Ghostface, Raekwon & Cappadonna Freestyle
21 - DMX Freestyle
22 - Redman & Method Man Freestyle
23 - Juvenile Freestyle
24 - Nelly Freestyle
25 - Bow Wow Freestyle
How To DOWNLOAD