DJ E.NYCE - Juelz Santana: Nothing But The Freestyles
Submitted by mfizzel on Thu, 05/11/2006 - 6:33am.
East Coast | DJ E.Nyce | Mixtape Torrents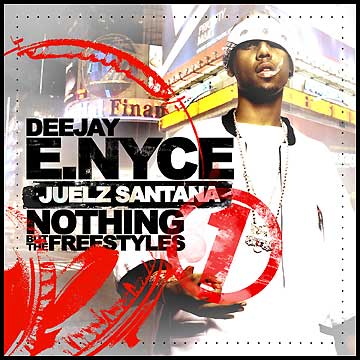 DJ E.NYCE brings the Dipset fans something to get their byrdgang
on to with this 100%freestyles joint from Juelz Santana. With The
Diplomats' young gunner in the booth for some of that characteristic
mixtape beat-jacking, this joint brings you the hottest Juelz freestyles
over the baddest beats. Featuring Cam, Jim, Jeezy, Sigel, The Game.

1 - Juelz Santana Intro
2 - Kill A Man Freestyle
3 - On Fire Freestyle
4 - Hustling Backwords Freestyle
5 - Like A Boss Freestyle
6 - One 4 Peedi Freestyle feat. Beanie Sigel
7 - Stay Fly Freestyle feat. Young Jeezy
8 - Like A Pimp Freestyle feat. Jim Jones
9 - More Crack Freestyle
10 - 45th & Broadway Freestyle
11 - Feel It In The Air Freestyle
12 - Hand 2 Hand Freestyle
13 - What More Can I Say Freestyle
14 - Money Cash Hoes Freestyle feat. Cam'ron & Jim Jones
15 - All Eyes On Zeek Freestyle feat. Jim Jones
16 - Respect Dips Freestyle feat. Un Kasa
17 - Its So Hard Freestyle
18 - Mic Check (remix) feat. Young Jeezy
19 - Lifes To Short Freestyle feat. Jim Jones
20 - Drop It Like Its Hot Freestyle
21 - Blackout Freestyle
22 - Oh Yeah Freestyle
23 - Never Scared Freestyle feat. Cam'ron
24 - Round Here Freestyle feat. The Game & Jim Jones
25 - I'm Ready Freestyle
26 - We Be Freestyle
27 - Straight Drop Freestyle feat. Young Jeezy & Jim Jones
28 - Gangsta Freestyle
29 - Ladies Freestyle
30 - Know The Ledge Freestyle
31 - Shootouts Freestyle feat. Bezel & Jim Jones
32 - T.O.N.Y Freestyle
33 - Wait (Whisper Song) Freestyle
34 - Hot 97 Freestyle feat. Cam'ron
How To DOWNLOAD