DJ E Z Cutt - Back N Da Bay
Submitted by mfizzel on Sun, 08/20/2006 - 1:19pm.
Dirty South | DJ EZ Cutt | Mixtape Torrents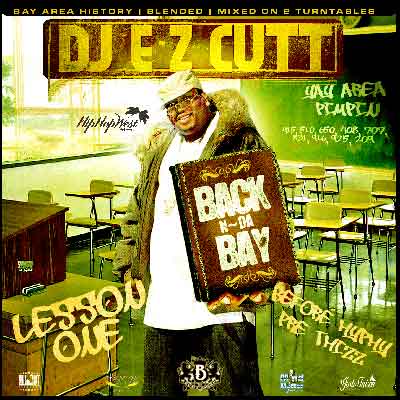 Back~N~Da~Bay Lesson 1 is a trip back the the pre-hyphy, pre-thizz era of bay area
slaps. Put together by DJ EZ Cut this CD features Richie Rich, Mac Dre, E-40,
the Luniz and more!

1. Dj E-Z Cutt-Bay-Tro
2. Richie Rich Oakland-415
3. 2Pac Rip Ft Digital Underground Oakland-I Get Around
4. Spice 1 Hayward-187 Proof
5. Jt The Bigga Figga San Francisco-Game Recognize Game
6. Young Lay Vallejo-Playahs Mode
7. 3X Krazy Oakland-Keep It On The Real
8. 51-50 Marin-Bump A Bitch
9. Dru Down Oakland-Mack Of The Year
10. Totally Insane East Palo Alto-The Insane
11. N 2 Deep Vallejo-Back 2 Da Hotel
12. Mac Dre Vallejo Rip-Too Hard 4 Da Fukin Radio
13. The Whoridas Oakland-Talkin Bout Bank
14. Too Short Oakland-Freaky Tales
15. Too Short Oakland-Freaky Tales Part 2
16. 2Pac Oakland Rip-Pour Out A Lil Liquor
17. The Luniz Oakland-I Got 5 On It
18. Rbl Posse San Francisco-Bluebird
19. Digital Underground Oakland-Freaks Of The Industry
20. 11-5 San Francisco-Garcia Vegas Everybody Light Your Vega
21. C-Bo Sacramento-Til My Casket Drops
22. E-40 Vallejo-Mr Flamboyant
23. The Click Vallejo-Hurricane
24. Mac Mall Vallejo-Sick Wid This
25. Rbl Posse San Francisco-Bounce 2 This
26. The Mac Vallejo Rip-The Game Is Thick
27. Seaside Posse Seaside-Cutie Pie Bonus Track
How To DOWNLOAD