DJ Smallz - Dirty RnB 8
Submitted by mfizzel on Thu, 12/01/2005 - 3:17pm.
Mixtape Directory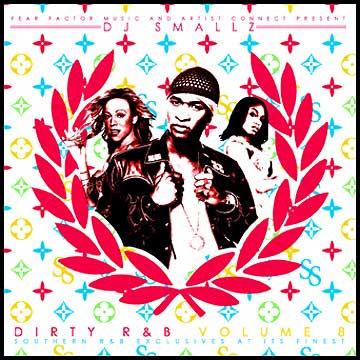 DJ Smallz hits you with the 8th installment of the most popular R&B
mixtape in the South (and the #1 mixtape for Crunk & B) as we hit the
rush for the end of the year. Featuring 27 tracks from Mariah Carey &
Jeezy/Jay-Z, Latoya L. & Paul Wall/Slim Thug, Lil' Wayne/Avant, 112,
David Banner & Jagged Edge, Mya & Trae, Twista/Trey Songz, Pharrell.

1 - Mariah Carey feat. Jay-Z & Young Jeezy – Shake It Off (remix)
2 - Rico Love – Sweat (produced by Jermaine Dupri)
3 - Avant feat. Lil' Wayne & Jermaine Dupri – U Know What
4 - Latoya Luckett feat. Paul Wall & Slim Thug – All Eyes On Me
5 - Jermaine Dupri feat. Missy Elliot – Gotta Getcha (remix)
6 - Brooke Valentine feat. Fabolous & Jazze Pha – Boogie Oogie Oogie
7 - David Banner feat. Jagged Edge – Two Fingers
8 - Jagged Edge feat. Tony Yayo – Project Princess
9 - Trina feat. Kelly Rowland – Here We Go
10 - Ebony Eyes feat. 112 – Take Me Back
11 - Twista feat. Trey Songz – Girl Tonight
12 - Marques Houston feat. Mike Jones – Naked (remix)
13 - Mi'ssez feat. Paul Wall – Love Song
14 - Trae feat. Mya – Matter Of Time
15 - 112 feat. Cassidy – Gold Digger
16 - Twista feat. Pharrell – Lavish Life
17 - Chingy – All We Do Is This
18 - Trick Daddy – What You Want?
19 - David Banner feat. Jazze Pha – Fuckin'
20 - Juvenile feat. UTP – Come Out Your Laundry
21 - Lil' Wayne feat. Currensy & Boo – You Nasty
22 - Webbie feat. Fat Joe & Jim Jones – Gimme Dat (remix)
23 - Ying Yang Twins feat. Pitbull & Uncle Luke – Shake (remix)
24 - Thorobredz feat. Jody Breeze & Jazze Pha – Back In The Middle
25 - T-Pain feat. Rasheeda & Young Noah – I'm Still Sprung
26 - Play-N-Skillz feat. Akon – Come Home With Me
27 - Na'sha feat. Shaggy – Fire (produced by Scott Storch)
How To DOWNLOAD