DJ Envy - Purple Codeine 5.5
Submitted by mfizzel on Mon, 04/17/2006 - 10:37am.
Mixtape Directory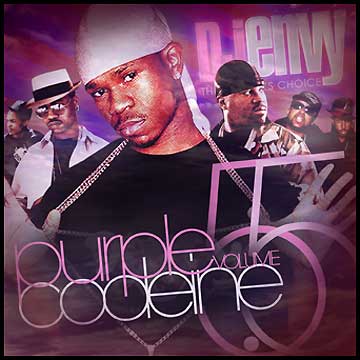 DJ Envy (Hot 97/Sirius Radio) has the serious lead to some of the Dirty
Dirty's hottest new tracks/freestyles getting mad love Down South. With
a gang of new tracks, this mixtape features new sh*t from Juvenile/BG/
Mannie Fresh, Lil' Flip & UGK, Lil' Scrappy & Young Buck, Chamillionaire,
Slim Thug & Killa Kyleon, Currency & Weezy, Young Dro & T.I., Pharrell.
1 - T.I. - Drive Slow (remix)
2 - Lil Scrappy feat. Young Buck - Money In The Bank
3 - Chamillionaire feat. UGK - Ridin Dirty (remix)
4 - Juvenile feat. BG & Mannie Fresh - What's Happening (remix)
5 - Shawnna feat. Ludacris & Jim Jones - Getting Some Head (remix)
6 - Clipse feat. Pharrell - Me Too
7 - Bonecrusher feat. Pimp C & Too Short - Can't Get No Lower
8 - Pimp C feat. Mike Jones & Bun B - Pourin Up
9 - Rick Ross Freestyle
10 - T.I. feat. BG & Young Jeezy - I'm Straight
11 - Lil Flip feat. UGK - You'z A Trick (remix)
12 - Smoot feat. Slim Thug, Chamillionaire & Killa Kyleon - Grain Grippa
13 - BG - Shop Closed
14 - Playaz Circle feat. 8Ball & MJG - Bitch Chill
15 - Cory Mo feat. Pimp P, Bun B & Slim Thug - It Ain't Me
16 - Young Dro feat. T.I.- Shoulder Lean
17 - Jiggolo feat. Paul Wall & Bun B - 26 Inches
18 - Currency feat. Lil Wayne & Remy Ma - Where Da Cash At
19 - Pharrell feat. Rosco P. Coldchain - I'm Talkin To You
20 - Field Mob feat. Bonecrusher - Deep (remix)
21 - Penelope feat. Lil Wayne - Miss Me With That Foolishness
22 - Project Pat feat. Three 6 Mafia - Good Googly Moogly
23 - Trae feat. Pimp C & Jim Jones - Swang (remix)
24 - All-Star Cashville Prince feat. Young Buck - Tear It Up
How To DOWNLOAD