DJ Bobby Black - Down & Dirty #17 (Hosted By Three 6 Mafia)
Submitted by mfizzel on Fri, 04/21/2006 - 12:19pm.
Mixtape Directory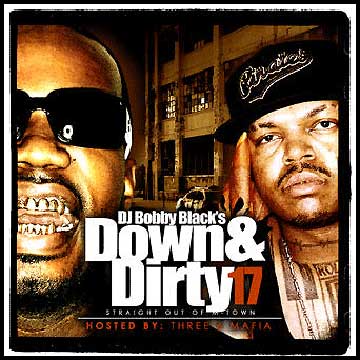 DJ Bobby Black collaborates for a rare mixtape from the Memphis
representaz Three-6-Mafia fresh off their Oscar win. Also the 1st rap
act from Tennesseee to go platinum, the Triple-6 hypnotizes you with
all-new Dirty South exclusives from Project Pat, Rick Ross, Paul Wall,
UGK & Mike Jones, T.I., B.G., BoHagon, 8Ball & MJG and Jody Breeze.

1 - DJ Bobby Black & Three Six Mafia Intro
2 - Project Pat - Good Googly Moogly
3 - Bonecrusher feat. Too Short, Pimp C – Can't Get No Lower
4 - Rick Ross - Nike Air Freestyle
5 - Playa Circle feat 8-Ball & MJG - Bitch Chill
6 - Gucci Mane feat. Young Snead - Bounce That
7 - Mike Jones feat. UGK - Pouring Up
8 - B.F.E. - It's About To Go Down
9 - Young Quan feat. Paul Wall - Get My Paper On
10 - Mystikal feat B.G. - Holla
11 - T.I. - Why You Wanna
12 - O.R. - Brand New
13 - Three 6 Mafia feat. GLC - Clap Ya Hands
14 - Three 6 Mafia feat. Squad Up - High All Night
15 - T.I. - Dip, Slide, Ride Out
16 - Dre feat. Ric Ross - Chevy Ridin High
17 - Yo Gotti feat. Slim Thug - Lean On Me
18 - Bonecrusher feat. Chamillionaire - Get Up On It (remix)
19 - Lil Scrappy feat. Young Buck - Money In The Bank (remix)
20 - Rico Love feat. Jody Breeze, Bo Hagon – I'm A Pimp
21 - Labba feat. Bun B - Ridin Up Top
22 - Pimp-C - Dope Girl Freestyle
23 - David Banner – Don't Even Think About It
24 - E-40 feat. T-Pain - Kandi Girl
25 - Mike Jones Speaks
26 - King Mello feat. Mike Jones - The Truth
27 - Paul Wall feat. UGK - Chunk Up The Dueces
28 - DJ Bobby Black Outro
BONUS TRACK
29 - Lil' Wayne - South Music
How To DOWNLOAD