DJ Keyz - South Lean 2: Ridin' Dirty (Hosted By Chamillionaire, Juvenile & Smitty)
Submitted by mfizzel on Wed, 04/05/2006 - 5:25pm.
Dirty South | DJ Keyz | Mixtape Torrents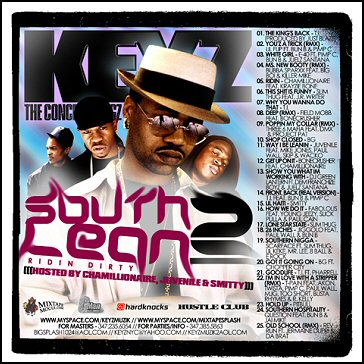 DJ Keyz heads South of the border and brings you some of the
dopest tracks from your favorite artists in the Dirty Dirty. Following
the success of his Southern Lean mixtape, this time he teams up
with Chamillionaire, Juvenile, & Smitty, who stop by to host it.

1 - The King's Back - T.I. (Produced By Just Blaze)
2 - You'z A Trick (remix) - Lil Flip feat. Bun B & Pimp C
3 - White Girl - E-40 feat. Pimp C, Bun B & Juelz Santana
4 - Ms. New Booty (remix) - Bubba Sparxx feat. Big Boi & Killer Mike
5 - Ridin - Chamillionaire feat. Krayzie Bone
6 - This Shit Is Funny - Slim Thug feat. J.R. Writer
7 - Why You Wanna Do That - T.I.
8 - Deep (remix) - Field Mobb feat. Bonecrusher
9 - Poppin My Collar (remix) - Three 6 Mafia feat. DMX, Lil Flip & Project Pat
10 - Shop Closed - Bg
11 - Way I Be Leanin - Juvenile feat. Mike Jones, Paul Wall, Skip & Wacko
12 - Get Up On It - Bonecrusher feat. Chamillionaire
13 - Show You What Im Working With - DJ Green Lantern feat. Dem Franchize Boyz & Juelz Santana
14 - Front, Back (Real Version) - T.I. feat. Bun B & Pimp C
15 - Lil Haiti - Smitty
16 - How We Do It - Fabolous feat. Young Jeezy, Slick Pulla & Paul Cain
17 - Lone Star State - Slim Thug
18 - 26 Inches - Jiggolo feat. Paul Wall & Bun B
19 - Southern Nigga - Scarface feat. Slim Thug, Lil Keke, Mr. Lee, 8 Ball & E Rock
20 - Got It Going On - BG feat. Chopper City
21 - Goodlife - T.I. feat. Pharrell
22 - I'm In Love With A Stripper (remix) - T-Pain feat. Akon, Twista, Pimp C, Paul Wall, MJG, Too Short & Busta Rhymes
23 - Hold Up - Pitbull
24 - Southern Hospitality - Question feat. Bun B & Jai Mike
25 - Old School (remix) - Rev Run feat. Jermaine Dupri & Da Brat
How To DOWNLOAD