DJ Smallz & Master P - Southern Smoke 20 (Chopped & Screwed)
Submitted by mfizzel on Sun, 03/05/2006 - 11:01am.
Mixtape Directory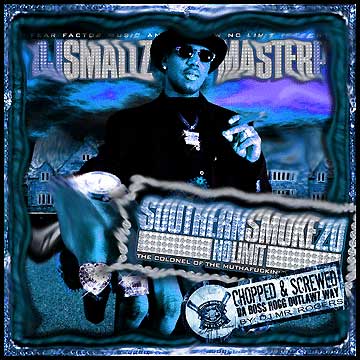 Boss Hogg Outlaw Mr. Rogers joins DJ Smallz as his special 20th
anniversary S.S. w/ N.O.'s favorite 'Ice Cream Man' Master P gets
chopped & screwed. With the No Limit legend pimpin' these 30+
tracks, freestyles & anthems, this mixtape features screwed tracks by
T.I., Three-6, Master P, Jeezy, C Murder, Big Boi, Slim Thug, Flip.

1 - Southern Smoke Studios Skit
2 - DJ Smallz & Master P – No Limit Intro
3 - Three 6 Mafia – Smack Your Head Off
4 - T.I. feat. Lil' Scrappy & Stat Quo – I'm A King (remix)
5 - YoungBloodz feat. Bone Crusher & Lil' Jon – A-Town Stomp!
6 - Lil' Jon feat. Lil' Scrappy, Lil' Flip & Juvenile – Hands On Me
7 - Master P – The Head Nigga In Charge Is Back
8 - Bone Crusher feat. Killer Mike & Trick Daddy – It's On
9 - E-40 feat. Lil' Scrappy & Bohagon – Pussy Niggaz
10 - Slim Thug feat. Pusha T & Pharrell – Click Clack
11 - Young Jeezy feat. T.I. & Lil' Scrappy – Bang
12 - Master P feat. Slim Thug – Shut It Down
13 - C-Murder feat. Bun B & Capone – Where The Stuff At
14 - Marc DeCoca feat. MacBoney, Don P, Rasheeda, Big Floaty, Fats, Backbone & Big Kuntry – J's At My Door (remix)
15 - Southern Smokin' With Master P In New Orleans
16 - Big Boi feat. Killer Mike & Purple Ribbon All Stars – Kryptonite
17 - Da Backwudz feat. Slim Thug & Nas – Ur Gonna Luv Me (remix)
18 - T.I. feat. Da Backwudz & DJ Smallz – Keep It Pimpin'
19 - Chamillioniare feat. Lil' Scrappy – H-Town To A-Town
20 - Slim Thug feat. Snoop Dogg & Talib Kweli – The Streets
21 - David Banner feat. Twista – Diamonds
22 - Young Jeezy feat. Paul Wall – And Then What (remix)
23 - Master P – The Colonel Demands More Volume
24 - Chamillioniare feat. Lil' Flip & Scott Storch – Turn It Up
25 - Paul Wall feat. Tony Yayo – Sittin' Sidewayz (remix)
26 - Mike Jones feat. Jay-Z – Back Then (remix)
27 - Master P – Dubs, Watches, Movies & Shoes
28 - Trillville feat. E-40 & Lil' Jon – I'm Pimpin'
29 - Three 6 Mafia feat. Ying Yang Twins – Pole Dance
30 - Trina feat. Lil' Scrappy – Shake Wit It
31 - Webbie feat. Trina & Chyna Whyte – Bad Bitch (remix)
32 - DJ Smallz & Master P – We Ain't Goin' No Where! Outro
How To DOWNLOAD