DJ Smallz & Kay Slay - Southern Smoke 24: We Got More Than Purp
Submitted by mfizzel on Sat, 02/11/2006 - 12:23am.
Mixtape Directory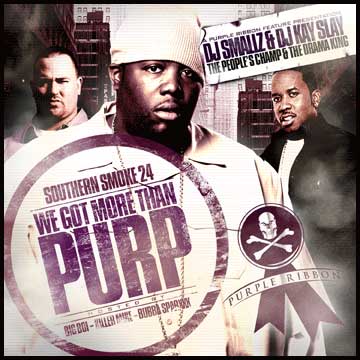 DJ Smallz and DJ Kay Slay team up for the third time and they have
Big Boi aka. Daddy Fat Sacks and his Purple Ribbon All-Stars, Killer
Mike and Bubba Sparxxx host this mixtape which has all new tracks,
remixes and exclusives that feature Young Jeezy & USDA, E-40 & Lil'
Jon, Ludacris, T.I., Three 6 Mafia & Project Pat, B.G. & Mannie Fresh.

1 - DJ Smallz & DJ Kay Slay feat. Big Boi – Inhale [intro]
2 - DJ Kay Slay & Greg Street feat. Lil' Jon, Lil' Scrappy, Lil' Flip & Lil' Wyte – Big Problems
3 - DJ Khaled feat. Paul Wall, Lil' Wayne, Rick Ross, Fat Joe & Pitbull – Holla At Me Baby
4 - Big Boi feat. Lil' Wayne, Killer Mike & Bubba Sparxxx – Kryptonite (official remix)
5 - UGK feat. Busta Rhymes, Young Jeezy, Labba & Z-Ro – Get Throwed (remix)
6 - David Banner feat. 8Ball, Lil' Flip & Jazze Pha – My Gun [not on album]
7 - Khujo & T-Mo Goodie feat. Daz & Kurupt – How The South Was Won
8 - Three 6 Mafia feat. Project Pat – Poppin' My Collar (remix)
9 - Bone Crusher feat. Chamillioniare & Lil' Jon – Get Up On It
10 - E-40 feat. Lil' Jon – Been There, Done That
11 - DJ Smallz & DJ Kay Slay – Purp Break
12 - Rick Ross feat. Busta Rhymes – Hustlin' (remix)
13 - Juvenile feat. Papoose & Jae Millz – What's Happnin' (remix)
14 - Dem Franchize Boyz feat. Dame Dash & Jim Jones – Bricks & Purp
15 - Young Jeezy feat. U.S.D.A. (Slick Pulla & Blood Raw) – Burning Up
16 - All Star feat. Lil' Wayne & Baby The Birdman – Grey Goose
17 - Juvenile – Rock Like That (Prod by Scott Storch)
18 - B.G. feat. Mannie Fresh – Move Around
19 - Killer Mike – Purp Break II
20 - Ludacris feat. Trick Daddy & Uncle Luke – Throw Da D [not on album]
21 - Ying Yang Twins feat. Bo Hagon & Lil' L.A. – Awww Skeet Skeet
22 - Trillville feat. Chyna Whyte – Watch Me Do This (remix)
23 - Bubba Sparxxx feat. Mr. Collipark – Heat It Up
24 - Field Mob feat. Ciara & Jazze Pha – So What
25 - Young Jeezy feat. Christina Millian – Say I
26 - T.I. feat. Ciara & Lil' Jon – King & Queen (remix)
27 - Sleepy Brown feat. T.I. – We Pimpin' [not on album]
28 - Scarface feat. Z-Ro, Juvenile & Petey Pablo – Pimp Hard
29 - DJ Smallz & DJ Kay Slay feat. Killer Mike – Exhale [outro]
30 - ATL: The Movie [Trailer] Starring T.I. featuring Big Boi
How To DOWNLOAD