DJ Envy & Tapemasters Inc. - Purple Codeine #8 (Hosted By The Clipse)
Submitted by mfizzel on Fri, 08/04/2006 - 1:34pm.
Dirty South | DJ Envy | Mixtape Torrents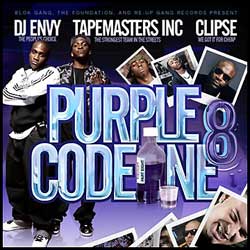 Filling up a cup for that 8th edition of the Purple Codeine series, DJ Envy and
Tapemasters Inc. team up with Virginia's finest (and a Mix Unit favorite!) The
Clipse.
The We Got It 4 Cheap villains team up with The People's Choice and NYC's #1
mixtape team to bring you 30+ new and exclusive tracks.
Featuring an exclusive freestyle from Pusha T & Malice + a couple of their new
tracks, this mixtape also features new Yung Joc, Juvenile, Pitbull & Lil' Jon
w/ Ying Yang, Youngbloodz, Slim Thug, Webbie, Lil' Keke, T.I., Bun B, Ludacris
and more.

1 - Clipse & Ab-Liva Freestyle (Dj Envy & Tm Inc Exclusive)
2 - Clipse feat. Re-Up Gang - Ain't Cha
3 - Yung Joc - Bout It
4 - Youngbloodz - Imma Shine
5 - Pitbull feat. Lil' Jon & Ying Yang Twins - Bojangles (remix)
6 - Petey Pablo - Show Me The Money
7 - Juvenile feat. Beanie Sigel - Killin That
8 - T.I. & Jay-Z - Light's Out
9 - Clipse Interlude
10 - Rick Ross feat. Akon - Cross That Line
11 - Webbie & Lil' Keke - How The Hustlers Do It
12 - Mike Jones, Paul Wall & Papoose - Live From The Block (DJ Kay Slay & Greg Street album)
13 - Lil' Boosie feat. Yung Joc - Zoom
14 - T.I. - Pimps Up
15 - Clipse feat. Slim Thug - Wamp Wamp
16 - Rick Ross feat. Lil' Wayne - I'm A G
17 - Lil' Wayne - Face The Nation
18 - Clipse Interlude
19 - Paul Wall - Matress Mack
20 - Bun B & Labba - Ridin Up Top
21 - Ludacris - Tell It Like It Is
22 - Young Buck feat. 50 Cent - Do It Myself
23 - Trae feat. Jim Jones - Coming Around The Corner
24 - Rick Ross - Pots & Pans
25 - Bun B, Pimp C & Static Major - More Than A Gangsta
26 - Question feat. Trey Songz - Part Of Me
27 - Clipse Interlude
28 - Dirtbag - Haters
29 - Young Jeezy - I Do This Shit
30 - M.O.S. - We Be On (Hitz Committee)
31 - Broadway Millz - North Cack
How To DOWNLOAD