DJ Ideal & DJ Khaled - Da Bottom #9 (Hosted By Trick Daddy)
Submitted by mfizzel on Sun, 06/04/2006 - 8:54am.
Dirty South | DJ Khaled | Mixtape Torrents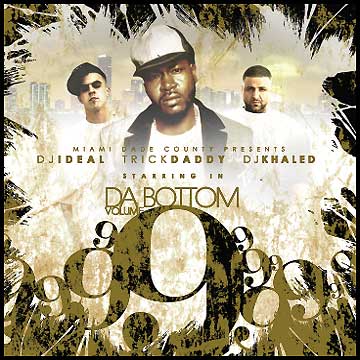 DJ Ideal and the Slip-N-Slide Records president Trick Daddy aka. the
T-Double-D are representing for their native Miami on this latest edition
of Da Bottom, one of the hottest brands in Southern mixtapes. Joining
the MIA mixtape veteran DJ Khaled for this ride through the 305, this
joint features new Southern sh*t by Lil' Wayne & Rick Ross, Baby &
Yo Gotti, Slim Thug, Scrappy, Pitbull, Jeezy/CTE, T.I., Pimp C/Bun B.

1 - Trick Daddy - Intro
2 - DJ Khaled feat. Trick Daddy, Pitbull & Rick Ross - Born & Raised
3 - Yo Gotti feat. Lil' Wayne & Baby - I Got 'Em
4 - Pimp C feat. Lil' Keke - Knockin Doors Down
5 - Lil' Scrappy - Fuck The Fed's
6 - Lil' Wayne feat. Currency & Rick Ross - Going Down - Freestyle
7 - Slim Thug feat. PJ & Killa Kyleon - What's Happenin - Freestyle
8 - Trick Daddy - Hustlin - Interlude
9 - Rick Ross feat. Young Jeezy & Jay-Z - Hustlin (remix)
10 - Trick Daddy feat. T.I. - Ridin'
11 - Trick Daddy - Dunk Riders Coming Soon - Interlude
12 - DJ Khaled feat. Young Jeezy, Bun B, Slick Pulla, & Blood Raw - Gangsta Shit
13 - Pitbull - Bottom 9 - Interlude
14 - Pitbull - Dope Boyz [produced by Lil' Jon]
15 - Smitty- Interude
16 - Smitty - Hood [produced by Gorilla Tek]
17 - Rick Ross - Money My Mind
18 - Rick Ross - Some Big Shit Going On - Interlude
19 - Rick Ross - What You Know - Freestyle
20 - Pimp C feat. Bun B & Mike Jones - Pourin Up
21 - Lil' Scrappy - Im Back
22 - Pitbull - Introduces Cubo - Interlude
23 - Cubo feat. Pitbull - Rock Bottom [produced by Taz]
24 - Trick Daddy - Shout To The Hoods
25 - Pitbull - A Little Story
26 - Youngbloodz feat. Busta Rhymes - Whole Lotta Ass
27 - Busta Rhymes - Miami Mixtape Fridays 12-2 AM - 103.5 The Beat
28 - Interlude
29 - C-Ride & Rick Ross - Get Throwed (remix)
30 - Trick Daddy - Outro
How To DOWNLOAD