DJ Ideal - Lil Jon & BME Records: The BME Mixtape
Submitted by mfizzel on Thu, 03/02/2006 - 12:59pm.
Dirty South | DJ Ideal | Mixtape Torrents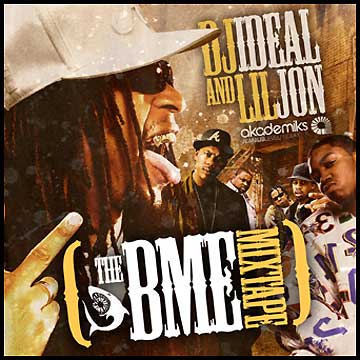 DJ Ideal launches this official BME Records mixtape on behalf of BME
CEO Lil' Jon and the Akademiks clothing line. Having sold more than 5
million records to date, BME is only getting started, and this mix is a full
preview of their crazy roster. This mix features exclusive heat by Lil' Jon,
Scrappy, Elephant Man, E-40, Trillville, Pitbull, Chyna Whyte & Bohagon.

1 - Lil' Jon - Intro
2 - Lil' Scrappy feat. Bohagon - Money In The Hood
3 - Lil' Jon - Interlude
4 - Lil' Jon feat. E-40, Sean Paul (of the Youngbloodz) & Pitbull - Snap Ya Fingers
5 - Lil' Scrappy - Introduces New Single
6 - Lil' Scrappy feat. Bohagon & Pitbull - You Ain't Know
7 - Lil' Scrappy - Interlude
8 - E-40 feat. Lil' Scrappy & Bohagon - Pussy Niggaz
9 - Lil' Jon - Interlude
10 - Trillville feat. Big Sam - Watch Me Do It
11 - Lil' Jon Introduces Bohagon
12 - Bohagon feat. Lil' Jon, D4L & Crime Mob - Wuz up
13 - Elephant Man Checks In
14 - Oobie feat. Elephant Man - P**** Control
15 - Lil Jon - Ain't Nobody Fuckin Wit Da "A" - Interlude
16 - Bohagon - Fuck You
17 - Pitbull - Bojangles
18 - E-40 - Tell Me When To Go
19 - Elephant Man - Spin Your Rag
20 - Lil' Jon - MySpace
21 - Trillville - Infiltrate
22 - Chyna White Checks In
23 - Chyna White feat. Yo Gotti - Huh Brah
24 - Lil' Scrappy feat. Chyna White - Shake My World
25 - Crime Mob - Rock Yo Hips
26 - E-40 feat. Lil' Jon - Been There, Done That
27 - Lil' Jon - Outro
28 - Trillville feat. E-40 - I'm A Pimp
29 - Lil' Jon - Get That New Akedemiks Gear
BONUS TRACK
30 - BHI feat. K-Rab and Lil' Jon - Do It, Do It (Pool Palace)
How To DOWNLOAD