DJ Keyz - Inventing The Remix Pt. 6 - G-Unit: To The Heart
Submitted by mfizzel on Wed, 11/30/2005 - 12:37pm.
Mixtape Directory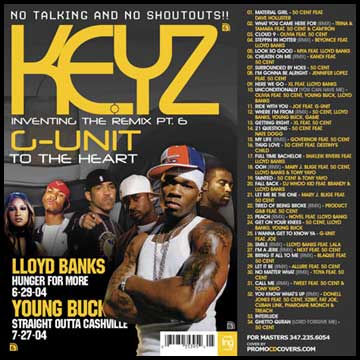 DJ Keyz drops #6 of his Remix series, this one with 50 Cent & G-Unit.
This joint features 34 G-Unit appearances w/ other artists such as Mya,
Beyonce, Cam'ron, J. Lo, Nate Dogg, Joe, Mary J Blige, Xzibit, Brandy...

1 - 50 Cent feat. Dave Hollister - Material Girl
2 - Trina & Tamara feat. 50 Cent & Cam'ron - What You Came Here For (remix)
3 - Olivia feat. 50 Cent - Cloud 9
4 - Beyonce feat. Lloyd Banks - Steppin' It Hotta (remix)
5 - Mya feat. Lloyd Banks - Look So Good
6 - Kandi feat. 50 Cent - Cheatin' On Me
7 - 50 Cent - Surrounded By Hoes
8 - J. Lo feat. 50 Cent - I'm Gonna Be Alright
9 - XL feat. Lloyd Banks - Here We Go
10 - Olivia feat. 50 Cent, Young Buck & Lloyd Banks - Unconditionally
11 - Joe feat. 50 Cent - Ride Wit You
12 - 50 Cent feat. Lloyd Banks, Young Buck & Game - Where I'm From
13 - XL feat. 50 Cent - Gettin' Right
14 - 50 Cent feat. Nate Dogg - 21 Questions
15 - Governor feat. 50 Cent - My Life
16 - 50 Cent feat. Destiny's Child - Thug Love
17 - Shaleik Rivers feat. Lloyd Banks - Full-time Bachelor
18 - Mary J. Blige feat. 50 Cent, Lloyd Banks & Tony Yayo - Ooh (remix)
19 - 50 Cent & Tony Yayo - Tainted
20 - Whoo Kid feat. Brandy & Lloyd Banks - Fall Back
21 - Mary J. Blige feat. 50 Cent - Let Me Be The One
22 - Product Gab feat. 50 Cent - Tired Of Being Broke (remix)
23 - Novel feat. Lloyd Banks - Peach (remix)
24 - 50 Cent feat. Lloyd Banks & Young Buck - Get On Your Knees
25 - G-Unit feat. Joe - I Wanna Get To Know Ya
26 - Lloyd Banks feat. LaLa - Smile (remix)
27 - Next feat. 50 Cent - Let It Be (remix)
28 - Blaque feat. 50 Cent - Bring It All To me (remix)
29 - Allure feat. 50 Cent - Let It Be (remix)
30 - Toya feat. 50 Cent - No Matter What
31 - Tweet feat. 50 Cent & Tony Yayo - Call Me (remix)
32 - Donell Jones feat. 50 Cent, Xzibit, Fat Joe, Cuban Link, Pharoahe Monch & Treach - You Know What's Up (remix0
33 - Interlude
34 - 50 Cent - Ghetto Quran
How To DOWNLOAD