DJ L - Can't Deny It
Submitted by mfizzel on Wed, 07/19/2006 - 5:40am.
East Coast | DJ L | Mixtape Torrents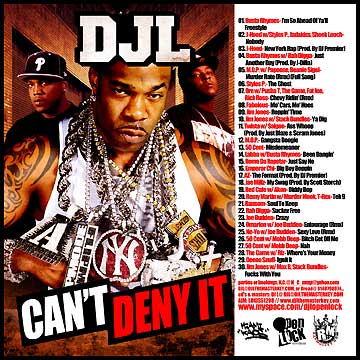 DJ L puts the mic to your jugular and applies that pressure on this undeniable
hip-hop banger. A new round of exclusives, new sh*t and freestyles is under way
whether you like it or not.
This joint bangs out to all-new tracks, including new freestyles and remixes from
Busta Rhymes, J-Hood, M.O.P. & Papoose, 50 Cent, Styles P, AZ, Jae Millz, Ransom,
Twista & Saigon, Fabolous, Jim Jones, Joe Budden, Red Cafe & more.

1 - Busta Rhymes - I'm So Ahead Of Ya'll Freestyle
2 - J-Hood feat. Styles P., Jadakiss, Sheek Louch- Nobody
3 - J-Hood - New York Rap (produced by DJ Premier)
4 - Busta Rhymes feat. Rah Digga - Just Another Day (produced by J-Dilla)
5 - M.O.P. feat. Papoose, Beanie Sigel- Murder Rate (Rmx) (Full Song)
6 - Styles P.- The Ghost
7 - Dre feat. Pusha T, The Game, Fat Joe, Rick Ross - Chevy Ridin' (Rmx)
8 - Fabolous - Mo' Cars, Mo' Hoes
9 - Jim Jones - Reppin' Time
10 - Jim Jones feat. Stack Bundles - Ya Dig
11 - Twista feat. Saigon - Ass Whoop (produced by Just Blaze & Scram Jones)
12 - M.O.P. - Gangsta Boogie
13 - 50 Cent - Misdemeanor
14 - Labba feat. Busta Rhymes - Been Bangin'
15 - Remo Da Rapstar- Just Say No
16 - Emperor Chi - Big Boy Boppin
17 - AZ - The Format (produced by DJ Premier)
18 - Jae Millz - My Swag (produced by Scott Storch)
19 - Red Cafe feat. Akon - Diddy Bop
20 - Remy Martin feat. Murder Mook, T-Rex- Tek 9
21 - Ransom - Soul To Keep
22 - Rah Digga - Sucker Free
23 - Joe Budden - Crazy
24 - Omarion feat. Joe Budden - Entourage (Rmx)
25 - Ne-Yo feat. Joe Budden - Sexy Love (Rmx)
26 - 50 Cent feat. Mobb Deep - Bitch Get Off Me
27 - 50 Cent feat. Mobb Deep - Nah
28 - The Game feat. Riz - Where's Your Money
29 - Deeno Snuff- Ignit It
30 - Jim Jones feat. Max B, Stack Bundles- Fucks With You
How To DOWNLOAD