DJ L - Cant Deny It Pt. 2
Submitted by mfizzel on Sun, 07/30/2006 - 4:50pm.
East Coast | DJ L | Mixtape Torrents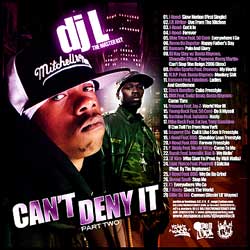 DJ L posts up on another slumper. Another banger to get you going during
these hot days of summer. Packed with the latest heat, you can hate on it,
but you can't deny it.
The ace up his sleeve is the new single from The Game of his new album The
Devil's Advocate. Titled "One Blood," Game's presence behind the mic is
once again in effect.
J-Hood also puts his 1st single in rotation, PLUS you'll find new Obie &
50, Ransom & Fabolous, Lupe Fiasco & The Neptunes, J.R. Writer, M.O.P., DMX,
Shaq & Papoose and more..

1 - Game - One Blood
2 - J-Hood - Slow Motion
3 - J.R. Writer - Live From The Kitchen
4 - J-Hood - Get It In
5 - J-Hood - Forever
6 - Obie Trice feat. 50 Cent - Everywhere I Go
7 - Remo Da Rapstar - Happy Father's Day
8 - Ransom - Pain And Glory
9 - DJ Kay Slay feat. Busta Rhymes, Shaquille O'Neal, Papoose, Remy Martin - Can't Stop The Reign 2006 (remix)
10 - Omilio Sparks feat. Freeway - My World
11 - M.O.P. feat. Busta Rhymes - Monkey Shit
12 - Ransom feat. Fabolous - Ladies And Gentlemen
13 - Stack Bundles - Cake Freestyle
14 - DMX feat. Swizz Beatz, Busta Rhymes - Come Thru
15 - Freeway feat. Jay -Z - World War III
16 - Young Buck feat. 50 Cent - Do It Myself
17 - Oschino feat. Jadakiss - Nasty
18 - Mike Beck feat. Fat Joe, Tony Sunshine - U Can Tell I'm From New York
19 - Emperor Chi - Call It Like I See It Freestyle
20 - J-Hood feat. ODG - Shoulder Lean Freestyle
21 - J-Hood feat. ODG - Forever Freestyle
22 - P. Diddy feat. Nicole Wray - Come To Me
23 - Razah feat. Juvenile, Bun B - We Ridin'
24 - Lil' Kim - Who Shot Ya (produced by Midi Mafia)
25 - Lupe Fiasco feat. Pharell - I Gotcha (produced by The Neptunes)
26 - J-Hood feat. ODG - We On Da Grind
27 - Deeno Snuff - Stop Me
28 - X1 - Everywhere We Go
29 - F-Nasty - Shock The World
30 - Gillie Da Kid - Cannon (Dissin' Lil' Wayne)
How To DOWNLOAD