DJ Clue - Fidel Cashflow 2006: The New Regime
Submitted by mfizzel on Thu, 02/09/2006 - 10:51pm.
Mixtape Directory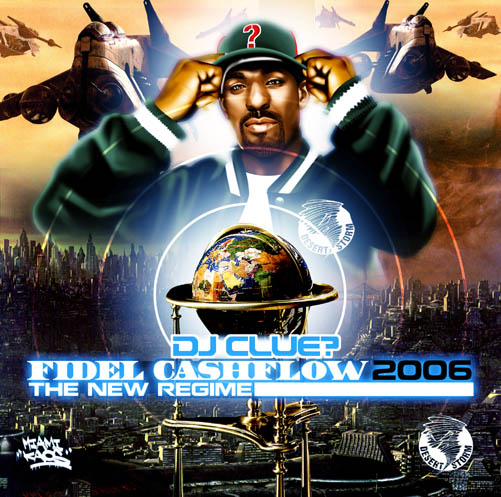 DJ Clue? returns from a short layoff, droppin' a banger to kick off the
'06 campaign. Reppin' Desert Storm and getting ready to drop his 3rd
album in 2006, Clue? aka. Fidel Cashflow hits you with all-new Fabolous,
Mobb Deep/Noyd, Nas, Joe Budden, 50 Cent vs. Game, Paul Wall/Red
Cafe, Mariah Carey & Styles P, Stack Bundles, A-Team & Rick Ross...

1 - DJ Clue? Intro
2 - Jadakiss & Styles P - Ms. Jackson (Dissin' 50 Cent)
3 - Ransom feat. Fabolous - You Don't Want That
4 - Mobb Deep feat. Noyd - Do That Dance
5 - Fabolous - What Cha'll Want
6 - Nas - Escobar 2006
7 - Stack Bundles - Bundles Hot Now
8 - The Game - Dear Mr. President
9 - Desert Storm feat. Ransom, Stack Bundles & Joe Budden - When Animals Attack #2
10 - Red Cafe feat. Fabolous & Paul Wall - Bling Blao pt. 2
11 - The Game - 240 Bars (Dissin' 50 Cent, G-Unit, Spider Loc)
12 - 50 Cent - Not Rich...Still Trying (Dissin' The Game)
13 - Gravy - 40/40
14 - Stack Bundles - Talking All That
15 - Styles P - Favorite Drug
16 - Mariah Carey & DJ Clue? feat. Fabolous & Styles P - Don't Forget About Us, part 2
17 - Chris Brown feat. Ransom - Yo! (Desert Storm remix)
18 - Magno aka. Magnificent - "Tip Down" Freestyle (Desert Storm South)
19 - Rick Ross feat. Busta Rhymes - Hustlin' (remix)
20 - Mobb Deep - Put 'Em On Ya Waist
21 - Outro
How To DOWNLOAD