DJ Rukiz - Shyne: Life After The Club
Submitted by mfizzel on Tue, 02/07/2006 - 8:33am.
Mixtape Directory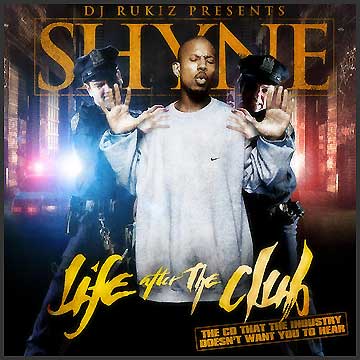 CLASSIC Shizz!

DJ Rukiz stirs up the industry with this new exclusive Shyne mixtape.
This mixtape is CRAZY with tracks from Def Jam's #1 recruit and also
hip-hop's most wanted artist. This mixtape is loaded with 37 exclusive &
unreleased tracks, PLUS classics, freestyles, interviews from Shyne...

1 - Dear America
2 - More Or Less
3 - What You Gonna Do
4 - Interview, part I
5 - Best Of Me Freestyle
6 - Bonnie & Shyne [studio]
7 - Bonnie & Shyne [original]
8 - It's Mine Freestyle
9 - Can't Belive Verse
10 - Die Right Here
11 - Gangsta Shit
12 - Bad Boyz [studio]
13 - Bad Boyz [original]
14 - Freestyle
15 - Confessions [verse]
16 - You Ballin'
17 - Be Like Me
18 - Their Ain't No
19 - It's Over Now Verse
20 - A Choice
21 - Sittin' Home Verse
22 - Boyz Will Be Boyz
23 - Notorious Verse
24 - Freak Tonight
25 - R&B Freestyle
26 - Behind Da Walls Verse
27 - Lay Low Freestyle
28 - Next Episode Freestyle
29 - "Xxplosive" Freestyle
30 - 2000 Freestyle
31 - Interview, part II
32 - No More Trouble
33 - A Real Story
34 - Fuck These Bitches
35 - All The Love
36 - That's Gangsta
37 - Interview At Hot 97 (w/ Angie Martinez)
38 - Commission
39 - Outro
How To DOWNLOAD