Clinton Sparks & DJ Rukiz - Shyne: If I Could Start From Scratch
Submitted by jada1212 on Sun, 11/02/2008 - 6:07am.
Classic / Old | Clinton Sparks | Mixtape Torrents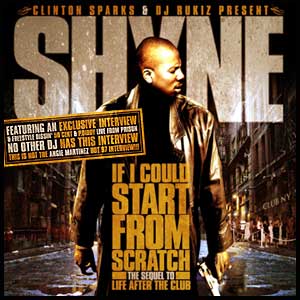 (This is a re-up)
Smashsquad representatives Clinton Sparks & DJ Rukiz bring you the
surprise sequel to one of the hottest mixtapes this summer, Life After The Club,
with this EXCLUSIVE mixtape from Smashsquad's finest DJs. This mixtape has the
interview nobody else has (NOT the Angie Martinez interview) in which Shyne speaks
on Diddy, 50, Suge Knight, Jay-Z, Dr. Dre, Foxy Brown & more. PLUS, you'll also
get a peek at The Godfather's new Def Jam album due out later this year.
NEW & EXCLUSIVE tracks from Shyne, including a C. Sparks remix called
"Brooklyn's Finest" w/ all-new verses from Biggie, Jay-Z, Shyne & Foxy Brown.
NEW disses on P. Diddy & 50 Cent & tracks w/ Foxy Brown, Grafh & Ashanti.
PLUS, all-new production from Roc-A-Fella's own Just Blaze & Kanye West.
THIS IS WHAT MIXTAPES ARE ALL ABOUT...
1. Intro
2. Def jam & shyne warning djs not to release this mixtape to the streets
3. Shyne speaks on 50 cent (live from prison) [exclusive interview]
4. 50 cent freestyle dissin' shyne on hot 97
5. Freestyle (50 cent diss live from prison)
6. For the record (50 cent diss)
7. Shyne speaks on brooklyn super group (jay-z, shyne & foxy brown) [exclusive interview]
8. Brooklyn's finest, part 2 feat. notorious b.i.g., jay-z & foxy brown (clinton sparks remix)
9. Straight from brooklyn
10. Shyne disses diddy, part 1 (live from prison) [exclusive interview]
11. Here with me (produced by just blaze)
12. We don't care feat. grafh
13. Shyne disses diddy, part 2 (live from prison) [exclusive interview]
14. Godfather
15. Where brooklyn at
16. Shyne disses diddy, part 3 (live from prison) [exclusive interview]
17. Death penalty
18. Keep it gangsta feat. g-dep
19. (live from prison) [exclusive interview]
20. Cant nobody feat. ashanti
21. Hoodlum
22. Shyne disses diddy, part 4 (live from prison) [exclusive interview]
23. The gang feat. foxy brown
24. Squeeze
25. i got my gun cocked (live from prison) [exclusive interview]
26. More or less (produced by kanye west)
27. i live this shit everyday (live from prison) [exclusive interview]
28. Pussy n pistols
29. suge, jay-z & dr. dre reachin out(live from prison)
30. Got beef
31. did he have a gun (live from prison) [exclusive interview]
32. Diamonds & mack 10 (produced by just blaze)
33. gonna be real interesting (live from prison) [excl
34. Freak tonight
35. (live from prison) [exclusive interview
36. No more peace
37. gangland green & gold (live from prison) [exclusive interview]
How To DOWNLOAD