DJ Rukiz - Big L: Unsolved Mysteries Pt. 2
Submitted by mfizzel on Wed, 02/15/2006 - 6:49pm.
East Coast | DJ Rukiz | Mixtape Torrents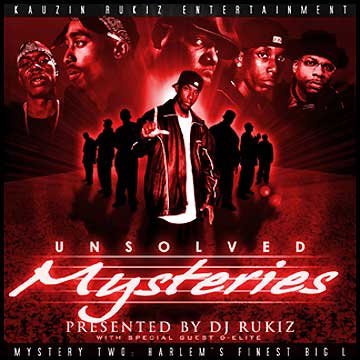 DJ Rukiz takes you to Harlem, the birthplace of Big L, and also the
fateful neighberhood the legendary lyricist was gunned down in back in
1999. Seven years later, the ex-Children of the Corn emcee is still loved
by many, and his music remains relevant. This mixtape is a Big L fan's
dream: 45 blends, remixes, verses, major freestyles, classics & more.

1 - Rukiz Intro
2 - Ebonics
3 - Back Up (Rukmix)
4 - Yes You May [verse] (his first ever appearance)
5 - Tramps, pt 1. (LIVE)
6 - Enemy [verse]
7 - MVP (Rukmix)
8 - Freestyle
9 - Freestyle American Cream
10 - Freestyle Danger Zone
11 - Freestyle Y'all See
12 - Platnium Plus [verse] (Rukmix)
13 - Furious Anger [verse]
14 - Freestyle Motherless Child
15 - Devil's Son [unreleased B-side]
16 - Hold It Down [verse]
17 - Freestyle Watch For The Hook
18 - 8-Minute Freestyle
19 - The Hiest
20 - Tramps, pt. 2 (LIVE)
21 - Freestyle 10 Crack Commandments
22 - Let 'Em Have It
23 - NY [verse]
24 - Stand Strong [verse]
25 - 98 Freestyle
26 - Casualties Of A Dice Game
27 - Put It On (Rukmix)
28 - 5 Fingers Of Death [verse]
29 - Fed Up Wit The Bullshit
30 - Thick (Rukmix)
31 - Street Struck
32 - Big L Interview
33 - Flamboyant (Rukmix)
34 - Hard Times On The Blvd.
35 - Triboro [verse]
36 - Lifestyles
37 - Day One [verse]
38 - Internationally Known [verse]
39 - Freestyle
40 - Wake Up Show [verse]
41 - How Will I Make It
42 - Fall Back [verse]
43 - Deadly Combination (remix)
How To DOWNLOAD