DJ Smallz - BoneCrusher: Bad To The Bone
Submitted by mfizzel on Thu, 06/15/2006 - 7:38am.
Dirty South | DJ Smallz | Mixtape Torrents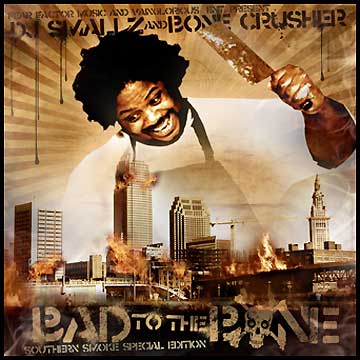 DJ Smallz is at full attention for this star-studded mixtape from ATL's
BoneCrusher as he pumps up his upcoming album The M.A.S.H. (due
out later in 2006). This Southern Smoke duo ain't never scared and why
would the be? They got one of the hottest mixtapes out right now, with
guest features including Pimp C & Too Short, Stat Quo, Field Mob, Lil'
Jon & YoungBloodZ, Killer Mike & Trick Daddy + the Big Diesel Shaq.

1 - Intro feat. DJ Smallz
2 - Here I Come, Get Out My Way
3 - Supa Nigga feat. Shaquille O'Neal
4 - Bad To The Bone Interlude I
5 - Can't Get No Lower feat. Pimp C & Too Short
6 - Goodbye feat. Youngbloodz & Lil' Jon
7 - Gangster Baller feat. Stat Quo
8 - V.I.P. (Fight Music)
9 - Bad To The Bone Interlude II
10 - It's On feat. Killer Mike & Trick Daddy
11 - Bump You feat. Fresh & Young Hawk
12 - Deep Tonight feat. Field Mob
13 - Walk That Walk feat. Bun B
14 - Get Up On It feat. Chamillionaire
15 - Bad To The Bone Interlude III
16 - Set It Off feat. Bun B & C.O.
17 - Wine Down Low feat. Beenie Man
18 - Throw It Up feat. Kelis
19 - Outro feat. DJ Smallz
How To DOWNLOAD