DJ Smallz - Southern Smoke Instrumentals #8
Submitted by mfizzel on Sun, 06/11/2006 - 7:10pm.
Instrumentals | DJ Smallz | Mixtape Torrents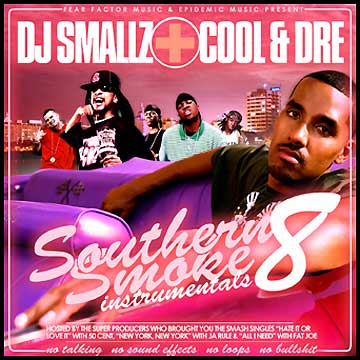 DJ Smallz rides out with two of the hottest beat-makers in hip-hop on
this latest SS Instrumentals mixtape. Featuring Cool & Dre, known for
their work w/ Game ("Hate It Or Love It"), Christina Milian (her upcoming
album), Juvenile ("Rodeo") and Ja Rule ("New York"), host this mix of
40 beats from tracks by T.I., Lil' Wayne, Rick Ross, UGK, Young Joc,
Swishahouse, D4L, DJ Khaled, Young Dro, BoHagon & Franchize Boyz.

1 - DJ Smallz and Cool & Dre – Intro
2 - Rick Ross feat. Jay-Z – Hustlin' (remix)
3 - T.I. feat. Lil' Wayne – What You Know (remix)
4 - T.I. feat. B.G. & Young Jeezy – I'm Straight
5 - T.I. feat. UGK – Front & Back
6 - Young Dro feat. T.I. – Shoulder Lean
7 - Young Joc – It's Goin' Down
8 - Lil' Wayne – Hustler Musik
9 - Lil' Wayne – Money On My Mind
10 - Cool & Dre – History In The Making
11 - Dre feat. Rick Ross – Chevy Ridin' High [produced by Cool & Dre]
12 - DJ Drama feat. T.I. & Busta Rhymes – Cannon!
13 - Dem Franchize Boyz feat. Bun B – My Music
14 - Dem Franchize Boyz feat. Three 6 Mafia – Don't Play Me
15 - Dem Franchize Boyz feat. Jim Jones & Dame Dash – Bricks
16 - Bone Crusher feat. Pimp C & Too Short – Can't Get No Lower
17 - Bone Crusher feat. Chamillioniare – Get Up On It
18 - Cool & Dre – Favorite Instrumental
19 - Juvenile feat. B.G. & Mannie Fresh – What's Happnin' (remix)
20 - Lil' Wayne feat. Baby The Birdman – I'm A D-Boy
21 - B.G. feat. Mannie Fresh – Move Around
22 - Slim Thug & Boyz-N-Blue – Back 2 Front
23 - Lil' Flip feat. UGK – You'z A Trick (remix)
24 - Chamillionaire feat. UGK – Ridin' Dirty (remix)
25 - Lil' Keke feat. Paul Wall & UGK – Chuck Up Da Deuce
26 - Cool & Dre – A Studio Story
27 - T.I. – Stand Up Guy
28 - T.I. – Why You Wanna
29 - D4L – Betcha Can't Do It Like Me
30 - Lil' Jon feat. E-40 & Sean Paul – Snap Ya Fingers
31 - Bo Hagon feat. Crime Mob, D4L & Lil' Jon – Wuz Up
32 - E-40 feat. Lil' Jon & The Game – Tell Me When To Go (remix)
33 - Bubba Sparxxx feat. Big Boi & Killer Mike – Ms. New Booty (remix)
34 - DJ Khaled feat. Paul Wall, Lil' Wayne & Rick Ross – Holla At Me Baby [produced by Cool & Dre]
35 - Three 6 Mafia feat. DMX & Lil' Flip – Poppin' My Collar (remix)
36 - Yo Gotti feat. Young Buck & Allstar – Gangsta Party (remix)
37- Project Pat feat. DJ Paul & Juicy J – Good Googly Moogly
38 - Playaz Circle feat. Ludacris – U Can Believe It
39 - Field Mob feat. Ciara & Jazze Pha – So What
40 - Christina Milian feat. Young Jeezy – Say I [produced by Cool & Dre]
41 - Cherish feat. Sean Paul (of YoungBloodz) – Do It
42 - DJ Smallz and Cool & Dre – Outro
How To DOWNLOAD