DJ Spnatik & T.I. - Street Runnaz (The Paper Trail Edition)
Submitted by hardb0dy on Sun, 08/24/2008 - 6:33pm.
Dirty South | DJ Spinatik | Mixtape Torrents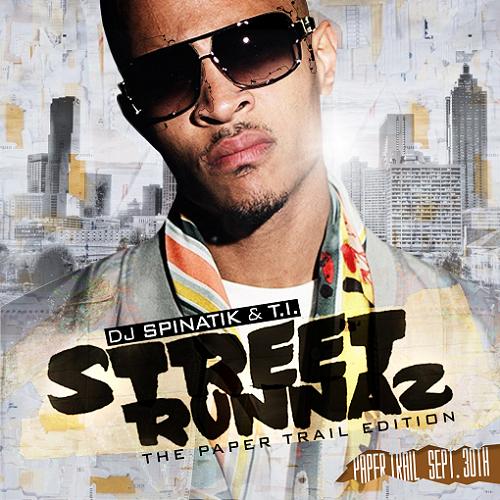 YOU KNOW WHERE YOU GOT IT FIRST - SHOUT TO DJ SPINATIK
The Wax Wizard & The King Of The South team up to bring you a taste of what's
to come from Paper Trail (dropping Sept. 30th)...hosted by TI himself!
1. (00:00:21) T.I. - Intro
2. (00:03:44) T.I. - Let My Beat Pound
3. (00:04:59) T.I. - My Life Your Entertainment ft. Usher
4. (00:01:00) T.I. - Hi Hater
5. (00:04:43) T.I. - Wish You Would ft. Ludacris
6. (00:04:06) T.I. - Ain't I
7. (00:00:21) T.I. - Respect My Vote
8. (00:05:45) T.I. - Swagger Like Us ft. Kanye West, Jay-Z & Lil Wayne
9. (00:03:16) T.I. - Swing Your Rag
10. (00:04:12) T.I. - Life Of The Party ft. R.Kelly
11. (00:01:10) T.I. - Girls Around The World
12. (00:01:34) T.I. - What You Know (Spinatik Blend)
13. (00:04:55) T.I. - What Up
14. (00:04:50) T.I. - No Matter What
15. (00:03:38) T.I. - Whatever You Like
16. (00:03:58) T.I. - Like I Do
17. (00:03:22) Alfamega - 4 or 5 Ways
18. (00:04:02) Big Kuntry King - We Here
19. (00:03:55) Young Dro - We Can Do It
20. (00:00:26) T.I. - Outro
How To DOWNLOAD