DJ Unexpected & DJ Supreme - The Willie Bryant Story (Motion Picture Mixtape Vol. 2)
Submitted by hardb0dy on Sun, 01/25/2009 - 8:38pm.
Remixes | DJ Unexpected | Mixtape Torrents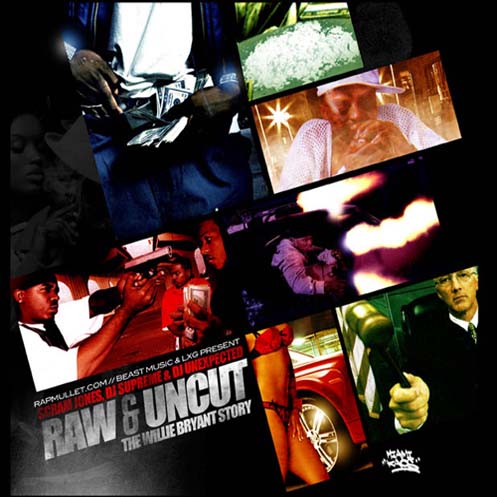 This was the second released CD in the "Motion Picture Mixtape" series
(Released in November 2006). Brought to you by DJ Unexpected and
DJ Supreme, this audio exprience tells the story of a street hustler
named "Willie Bryant". The CD chronicles his story from the beginning.
His rise to stardom, to the destruction of his life. Definitely a
classic story tell brought to you in mixtape form.
The third mixtape in the "Motion Picture Mixtape" series is dropping
next month..... Hevehitta Presents - 50 Cent: The Undertaker (Directed
by DJ Unexpected). Bringing you the story of Curtis Jackson and his
darkest days, including the unfortunate souls (rappers) who have crossed
him, only to meet their demise. I will have an Audio Trailer for this
CD on Wednesday.
1. (00:01:05) Willie Bryant - It All Starts Here (Intro)
2. (00:02:56) Doo Wop x Scram Jones x Nature - Those Were The Days (Produced by Scram Jones)
3. (00:01:09) Willie Bryant - How Times Have Changed (Interlude)
4. (00:03:17) Scarface - Product Of My Environment (DJ Supreme Remix)
5. (00:03:31) 2 Pac - The Sun Dont Shine Here (DJ Unexpected Remix)
6. (00:00:39) Willie Bryant - Wheel Of Misfortune (Interlude)
7. (00:01:56) 50 Cent x Talib Kweli - Blind Ambition (DJ Supreme Remix)
8. (00:00:25) Willie Bryant - Out Of Options (Interlude)
9. (00:01:15) Willie Bryant - Whats Yours Is Mine
10. (00:03:05) Paysoz - Give Or Take (Produced by DJ Unexpected)
11. (00:00:46) Willie Bryant - Scent Of A (White) Woman (Interlude)
12. (00:01:17) Lil Wayne - The Rookie Picture (DJ Supreme Remix)
13. (00:02:48) McGruff x Juelz Santana x Baby x Young Buck x Lil Wayne - Overnight Professional (DJ Supreme Remix)
14. (00:00:55) Willie Bryant - All In A Days Work (Interlude)
15. (00:03:36) Grams Across America - Weight Watchers (Produced by DJ Unexpected)
16. (00:00:35) Willie Bryant - Whatever It Takes (Interlude)
17. (00:03:46) Nature - One Shot (Produced By Scram Jones)
18. (00:01:36) Maino x Nas x DMX - Fear Is The Key (DJ Supreme Remix)
19. (00:01:53) Cassidy x Big Pun - The Red Badge Of Courage (DJ Supreme Remix)
20. (00:01:02) Kool G Rap - Breaker Breaker (One Step Ahead)
21. (00:01:33) Willie Bryant - For The Love Of The Money (Interlude)
22. (00:03:01) Kool G Rap x Ja Rule x Children Of The Corn - The American Dream (DJ Unexpected Remix)
23. (00:02:34) Willie Bryant - Win A Date With Mary Jane (Interlude)
24. (00:03:27) 50 Cent x Jigsy King x KRS One x McGruff x Barry White - Reefer Madness (DJ Unexpected Remix)
25. (00:00:37) Willie Bryant - Paranoia Sets In (Interlude)
26. (00:02:16) Jadakiss x A Pinks - Keeps Your Friends and Enemies Close (DJ Supreme Remix)
27. (00:00:23) Willie Bryant - Paranoia Sets In (Reprise)
28. (00:01:15) 2 Pac - The Downside Of The Game (DJ Unexpected Remix)
29. (00:00:29) Willie Bryant - Giants Vs Raiders (Interlude)
30. (00:03:04) Beanie Sigel - Miracle Mile (Fast Enough) (DJ Unexpected Remix)
31. (00:01:16) Willie Bryant - The Miranda Act (Interlude)
32. (00:02:29) Haffa - Dead Or Alive (Produced By Scram Jones)
33. (00:00:34) Willie Bryant - Reality Sets In (Finally) (Interlude)
34. (00:05:09) Ludacris x Beanie Sigel x Pimp C x C Murder - Do Your Time
35. (00:01:07) Willie Bryant - Free At Last (Interlude)
36. (00:01:45) Nas - In Retrospect (DJ Supreme Remix)
37. (00:00:56) Willie Bryant - The Only Life I Know (Or Is It) (Interlude)
38. (00:01:44) DJ Unexpected - Irony (Thy Name Is Willie)
39. (00:00:06) Matt Damon - Choice Words (Outro)
How To DOWNLOAD