Mick Boogie & DJ Unexpected - Directors Cut (Motion Picture Mixtape Vol. 1)
Submitted by hardb0dy on Sun, 01/25/2009 - 8:33pm.
Remixes | DJ Unexpected | Mixtape Torrents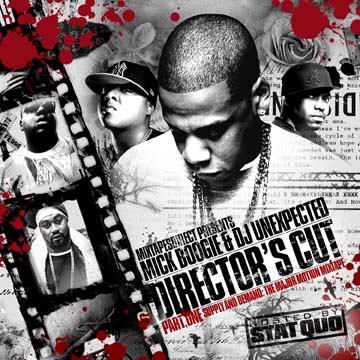 This CD was released back in November of 2005, but did not get the credit
it was due. This was the first "Motion Picture Mixtape" that DJ Unexpected
created (alongside Mick Boogie). I'm re-releasing this CD now to give the
people an experience they won't forget. Picture a movie, but audio wise.
Great listening experience.
MIXTAPE DESCRIPTION: "Mick Boogie and DJ Unexpected collaborate on this
creative project featuring remixes galore and hosted by Shady/Aftermath
artist Stat Quo. This Motion Picture Mixtape contains nothing but remixes,
mash-ups, blends, and exclusives that are sure to please the blend/remix
crowd as well as the streets. Hardcore artists like Jadakiss, Beanie Sigel,
Ghostface, Nas, Biggie, Big Pun, and Big L are mixed to perfection over a
perfect selection of grimey instrumentals. Mick & DJ Unexpected together
create an experience that isnt to be missed."
1. (00:01:03) Mick Boogie - Intro
2. (00:00:39) Stat Quo - Interlude
3. (00:02:21) Jay Z x Fabolous - Skimask Hustlin (Mick Boogie Remix)
4. (00:01:56) Jadakiss x Styles - The Underdogs (Mick Boogie Remix)
5. (00:02:37) Obie Trice x Royce Da 59 x Ras Kass - 3 The Hard Way (Mick Boogie Remix)
6. (00:02:06) Kano - Streets Are Watching
7. (00:00:18) Mick Boogie & DJ Unexpected - A Brick And A Half Interlude
8. (00:01:22) Nas x Nature - High Times (Mick Boogie Remix)
9. (00:02:03) Nas - Criminology Part 2 (Terry Urban Remix)
10. (00:02:24) Beanie Sigel - Incarcerated Scarface Part 2
11. (00:03:34) Ghostface Killah x Raekwon - The Kilos
12. (00:03:07) Ghostface Killah x Redman x Stat Quo - Flatline (Mick Boogie Remix)
13. (00:02:59) Young Jeezy x Jay Z - Act Like You Know (Produced By The Kickdrums)
14. (00:04:06) SAS - Diamonds
15. (00:00:35) Stat Quo - Interlude
16. (00:04:12) Stat Quo - East Coast Marathon
17. (00:04:57) Stat Quo x Chamillionaire x B.G x Soulja Slim - In These Streets
18. (00:01:40) DJ Unexpected - Intro
19. (00:01:15) Nas - Whats There To Compare (DJ Unexpected Remix)
20. (00:04:58) War x Raekwon x Bounty Killa x Klashnekoff - World Is A Ghetto (DJ Unexpected Remix)
21. (00:00:40) Mick Boogie & DJ Unexpected - Poverty Is Not An Option Interlude
22. (00:03:34) Notorious B.I.G x 50 Cent - The Only Solution (DJ Unexpected Remix)
23. (00:00:30) Mick Boogie & DJ Unexpected - One Year Later Interlude
24. (00:00:21) Stat Quo - Word To The Survivors Interlude
25. (00:03:36) Tragedy Khadafi x Half-A-Mil x Fat Joe x Big Pun x Big L x Cassidy - Fear and Loathing (DJ Unexpected Remix)
26. (00:00:38) Mick Boogie & DJ Unexpected - Danger Lurks Interlude
27. (00:02:33) 2Pac - Downside of the Game (DJ Unexpected Remix)
28. (00:00:55) Mick Boogie & DJ Unexpected - Danger Lurks Part 2 Interlude
29. (00:04:07) Ghostface Killah x Kool G Rap x Jadakiss - The Great Escape (DJ Unexpected Remix)
30. (00:00:30) Mick Boogie & DJ Unexpected - The Gig Is Up Interlude
31. (00:01:51) Kool G Rap x Akon - Rikers Island (DJ Unexpected Remix)
32. (00:00:47) Mick Boogie & DJ Unexpected - Solitary Contemplation Interlude
33. (00:00:57) Mick Boogie & DJ Unexpected - A Lesson To Be Learned Interlude
How To DOWNLOAD