DJ Unexpected - The Sound Of Victory
Submitted by mfizzel on Tue, 01/20/2009 - 5:36pm.
Reggae | DJ Unexpected | Mixtape Torrents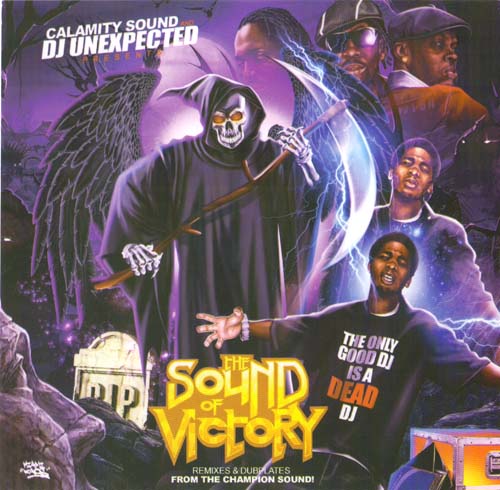 Calamity Sound & DJ Unexpected Present The Sound Of Victory, the 2nd entry in
their Reggae series, after the highly acclaimed and nominated "Every Shade Has A
Story: Jamaica". Featuring Exclusive Remixes by DJ Unexpected and Dubplates
from some of Reggae's hottest artists, 38 tracks constitute another classic from
the Champion Sound! Listen and learn how to entertain and educate...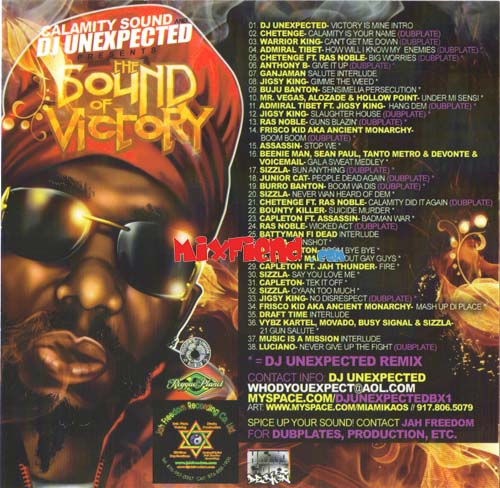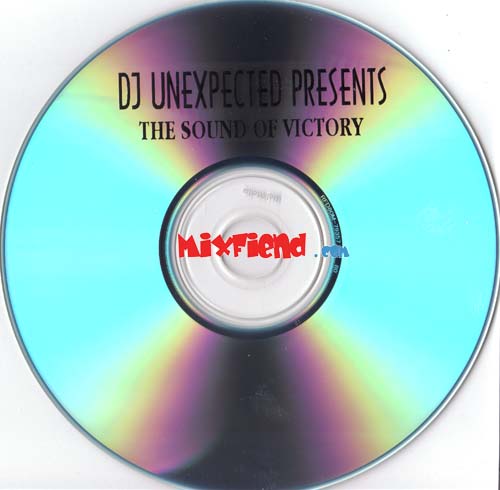 1. DJ Unexpected- Victory Is Mine Intro
2. Chetenge- Calamity Is Your Name (Dubplate)
3. Warrior King- Can't Get Me Down (Dubplate)
4. Admiral Tibet- How Will I Know My Enemies (Dubplate) *
5. Chetenge Feat. Ras Noble- Big Worries (Dubplate) *
6. Anthony B- Give It Up (Dubplate) *
7. Ganjaman Salute Interlude
8. Jigsy King- Gimme The Weed *
9. Buju Banton- Sensimelia Persecution *
10. Mr. Vegas, Alozade & Hollow Point- Under Mi Sensi *
11. Admiral Tibet Feat. Jigsy King- Hang Dem (Dubplate) *
12. Jigsy King- Slaughter House (Dubplate) *
13. Ras Noble- Guns Blazin' (Dubplate) *
14. Frisco Kid aka Ancient Monarchy- Boom Boom (Dubplate) *
15. Assassin- Stop We *
16. Beenie Man, Sean Paul, Tanto Metro & Devonte & Voicemail- Gal A Sweat Medley
*
17. Sizzla- Bun Anything (Dubplate) *
18. Junior Cat- People Dead Again (Dubplate) *
19. Burro Banton- Boom Wa Dis (Dubplate) *
20. Sizzla- Never Wan Heard Of Dem *
21. Chetenge Feat. Ras Noble- Calamity Did It Again (Dubplate)
22. Bounty Killer- Suicide Murder *
23. Capleton Feat. Assassin- Badman War *
24. Ras Noble- Wicked Act (Dubplate)
25. Battyman Fi Dead Interlude
26. Sizzla- Gunshot *
27. Buju Banton- Boom Bye Bye *
28. Elephant Man- Bun Out Gay Guys *
29. Capleton Feat. Jah Thunder- Fire *
30. Sizzla- Say You Love Me *
31. Capleton- Tek It Off *
32. Sizzla- Cyaan Too Much *
33. Jigsy King- No Disrespect (Dubplate) *
34. Frisco Kid aka Ancient Monarchy- Mash Up Di Place *
35. Draft Time Interlude
36. Vybz Kartel, Movado, Busy Signal & Sizzla- 21 Gun Salute *
37. Music Is A Mission Interlude
38. Luciano- Never Give Up The Fight (Dubplate)
* = DJ Unexpected Remix
How To DOWNLOAD