Evil Empire - Be South 8 (Hosted By Rick Ross)
Submitted by mfizzel on Sat, 02/04/2006 - 1:46pm.
Mixtape Directory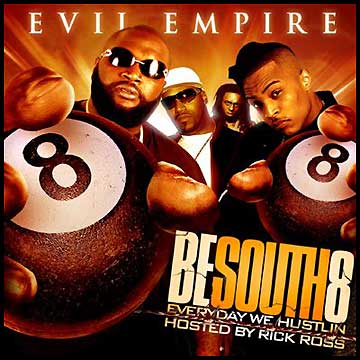 Evil Empire shows you their Everyday Hustle with Rick Ross, whose
hit "Hustlin" is tearing it up nationwide, on this crazy Southern mixtape.
Featuring Dirty South exclusives, freestyles and all-new tracks, this
mixtape brings you new B.G., T.I., Bun B, Big Boi & Killer Mike, Luda,
Three-6. Slim Thug/Stat Quo, Webbie & Pimp C, Kiotti, Replacementz.

1 - DJ Khaled feat. Paul Wall, Lil' Wayne, Rick Ross, Fat Joe, Pitbull - Holla At Me Baby
2 - Rick Ross feat. Busta Rhymes Hustlin (remix)
3 - Three-6-Mafia feat. B.G. - Pop Ya Collar (remix)
4 - T.I. - What You Know
5 - Baby - Long Time
6 - Dem Franchize Boys feat. Dame Dash, Jim Jones - Weight For The High
7 - B.G. feat. Paul Wall - Holdin Slab
8 - Bun B - Go Hard
9 - Big Boi feat. Sleepy Brown Killa Mike - Running Away
10 - Players Circle feat. Ludacris - U Can Believe
11 - Webbie feat. Pimp C, Boosie - Like That (remix)
12 - 334 Mo.BB feat. Killa Kat - Say U A Hustler
13 - Slim Thug & Stat Quo - Flow 06'
14 - Rick Ross - Nike Airs, Crisp T's
15 - UGK feat. Z-Ro, Young Jeezy - Get Throwed (remix) [new verses]
16 - Question - Throwed
17 - T.I. - Swagger [produced by Scott Stortch]
18 - P$C feat. Mike Jones - Old Skool
19 - BG feat. Young Buck - I Got Mine
20 - Riz feat. Killa Mike - If Rap Don't Work
21 - Redhanded feat. Paul Wall - Thats What They Want?
22 - Kiotti - Gangster
23 - Replacementz - Get' Em
24 - Christina Milan feat. Young Jeezy - Say I
How To DOWNLOAD