J. Armz - How To Be An MC #36 (Instrumentals)
Submitted by mfizzel on Fri, 07/28/2006 - 4:29am.
Instrumentals | J. Armz | Mixtape Torrents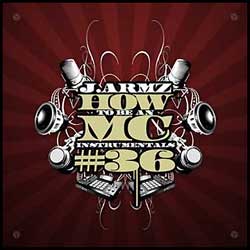 The industry standard for instrumentals mixtapes is the How To Be An MC series from
J. Armz because it always highlights the best producers and the newest instrumentals
first.
Again giving shine to the top beats of the moment, this mixtape features 33 hip-hop,
R&B and Southern beats.
Featuring instrumentals by Dr. Dre, Kanye West, Cool & Dre, Eric Sermon, Just Blaze,
Pharrell, Justice League, Scott Storch, Jermaine Dupri, J.R. Rotem and more.

1 - Goonies (produced by Knoxville/Spliffington Management) – J.R. Writer feat. Hell Rell & Jim Jones
2 - Nightmares (produced by Dr. Dre) – Mobb Deep feat. 50 Cent
3 - World War 3 (produced by Bink) – Freeway feat. Jay-Z
4 - Flippin' Dat (produced by Cool & Dre) – Nina Sky feat. Rick Ross
5 - Push It (produced by Jonathan JR Rotem) – Rick Ross
6 - Stunting Like My Daddy (produced by Slim & Baby) – Baby feat. Lil Wayne
7 - Zoolander (produced by Dame Greese) – J.R. Writer
8 - Grammy Family (produced by Kanye West) – DJ Khaled feat. Kanye West & Consequence
9 - Why Wouldn't I (produced by Dre & Vidal) – Beanie Sigel
10 - Worried (produced by Raw) – Duke Da God feat. 40 Cal
11 - Get Ya Gun (produced by DJ Big Tyme) – Cam'ron
12 - Momma (produced by Sean C & LV) – Ghostface feat. Meagan Rochell
13 - Goldmine (produced by Eric Sermon) – Busta Rhymes feat. Raekwon
14 - Can't Stop The Reign 2006 (produced by Emile & DJ Kay Slay) – DJ Kay Slay feat. haquille O'Neal, Bun B, & Papoose
15 - Daydreamin' (produced by Chad Beat) – Mobb Deep
16 - Riot Pump (produced by Justice League) – J.R. Writer
17 - Hands Up – Lloyd Banks feat. 50 Cent
18 - My Swag (produced by Scott Storch) – Jae Millz
19 - Chicken Noodle Soup (produced by DJ Webstar) – DJ Webstar feat. Young B.
20 - Don't Do That (produced by Just Blaze) – Saigon
21 - Gangsta Shit (produced by Develop) – Juelz Santana
22 - Grown And Sexy (produced by The Beat Bullies) – Chamillionaire
23 - Speakin' So Freely (produced by Havoc) – Mobb Deep
24 - The World Could Be Yours (produced by Milwaukee Black) – Da Backwudz
25 - I Did You Wrong (produced by The Blackout Movement) – MIMS
26 - Money Maker (produced by Pharrell) – Ludacris feat. Pharrell
27 - Call On Me (produced by Jermaine Dupri) – Janet Jackson feat. Nelly
28 - Everytime The Beat Drop (produced by Jermaine Dupri) – Monica feat. Dem Franchize Boyz
29 - Blow (produced by Dre) – Rick Ross feat. Dre
30 - He Don't Know / Killa Season DVD (produced by Ty-Trackz) – Oun-P
31 - On Da Newz (produced bt GM Productions) – Real Talk DVD
32 - Money in the Bank (produced by Lil Jon) – Lil Scrappy feat. Young Buck
33 - We Gettin' Money (produced by Knoxville) – Duke Da God feat. J.R. Writer & 40 Cal
How To DOWNLOAD