J Armz - How To Be An MC Vol 1 (The Re-Issue) (2CD)
Submitted by mfizzel on Mon, 02/09/2009 - 12:37pm.
Instrumentals | J. Armz | Mixtape Torrents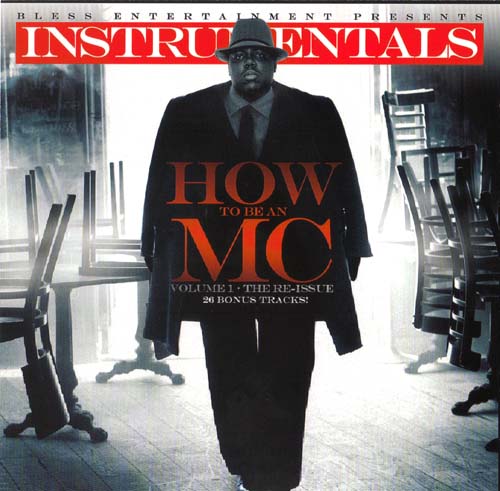 Here goes the re-issue of the original How To Be An MC with 26 bonus tracks!
Strictly Biggie beats on this one.
CD 1
1. Ready To Die (produced by Easy Mo Bee)
2. Kick In The Door (produced by DJ Premier)
3. Keep Ya Hands HIgh (produced by Deric "D-Dot" Angelettie)
4. I Got A Story To Tell (produced by Buckwild)
5. Get Money (produced by EZ Elpee)
6. The World Is Filled (produced by Deric "D-Dot" Angelettie)
7. What's Beef (produced by Nashiem Myrick & Carlos Broady)
8. Ten Crack Commandments (produced by DJ Premier)
9. Gimme The Loot (produced by Easy Mo Bee)
10. Victory (produced by Sean "Puffy" Combs & Steven "Stevie J" Jordan
11. Player's Anthem (produced by DJ Clark Kent)
12. Fuck You Tonight (produced by Daron Jones)
13. All About The Benjamins (produced by Deric "D-Dot" Angelettie)
14. Big Poppa (produced by Chucky Thompson)
15. One More Chance (produced by Chucky Thompson)
16. Only You (produced by 112)
17. Flava' In Ya Ear Remix (produced by Easy Mo Bee)
18. Hypnotize (produced by Deric "D-Dot" Angelettie & Ron Lawrence)
19. Machine Gun Funk (produced by Easy Mo Bee)
20. Notorious (produced by Prestige)
21. Just A Memory (Produced by Scram Jones)*
22. Living In Pain (Produced By Just Blaze)*
23. Whatchu Want (Produced By Timberland)*
24. Brooklyn's Finest (Produced by Clark Kent)*
25. Nasty Boy Remix (produced by Sean 'Puffy' Combs)*
26. Would You Die For Me (produced by Sean 'Puffy' Combs)*
27. Long Kiss Goodnight (produced by Rza)*
28. Party & Bullshit (produced by Easy Mo Bee)*
29. Breaking Old Habits (Produced By Chink Santana)*
30. Get Your Grind On (produced by Sean Cane)*
31. Drugs (produced by Fabian Hamilton)*
32. Dangerous MC's (produced by Nottz)*
33. Spit Your Game (produced by Swizz Beats)*
CD 2
1. Somebody Gotta Die (produced by Nashiem Myrick & Carlos Broady)
2. Who Shot Ya (produced by Nashiem Myrick)
3. Warning (produced by Easy Mo Bee)
4. Going Back To Cali (produced by Easy Mo Bee)
5. Respect (produced by. Jean "Poke" Oliver)
6. The What (produced by Easy Mo Bee)
7. Unbelievable (produced by DJ Premier)
8. Last Dayz (produced by Havoc)
9. Notorious Thugs (produced by Stevie J.)
10. Sky's The Limit (produced by Clark Kent)
11. Nasty Boy (produced by Stevie J.)
12. Dead Wrong (produced by Chucky Thompson & Mario Winans)
13. Juicy (produced by Pete Rock)
14. One More Chance Remix (produced by Rashad Smith)
15. Only You Remix (produced by 112)
16. Mo money, Mo Problems (produced by Stevie J.)
17. Player's Anthem Remix (produced by DJ Clark Kent)
18. Big Poppa Remix (produced by Jermaine Dupri)
19. Notorious Remix (produced by Daven "Prestige" Vanderpool)
20. Biggie (produced by Nashiem Myrick)
21. Runnin' (Produced by Eminem)*
22. Hold Ya Head (produced by Clinton Sparks)*
23. Realest Niggas (produced by Red Spyda)*
24. Young G's (produced by Rashad Smith)*
25. Nasty Girl (Produced By Jazze Pha)*
26. Big Booty Hoes (produced by Daven ''Prestige'' Vanderpool)*
27. Niggas Bleed (produced by Nashiem Myrick)*
28. Whatchu' Want (produced by Danja)*
29. 3 B's (Produced by Red Spyda)*
30. Rap Phenomenon (produced by DJ Premier)*
31. Queen Bitch (produced by Nashiem Myrick)*
32. Real Niggas (produced by Deric 'D-Dot' Angelettie)*
33. Breakin' Old Habits (produced by Chink Santana)*
*Re-issue bonus track
How To DOWNLOAD