J-Love - Ghostface Killah: Hidden Darts #3
Submitted by mfizzel on Mon, 03/06/2006 - 9:56am.
Mixtape Directory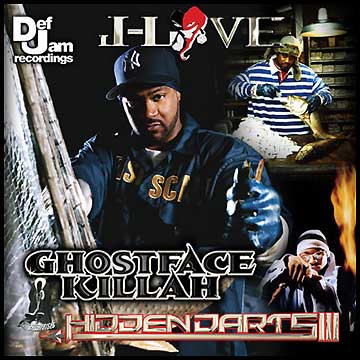 J-Love has always been down with The Swarm, so when Def Jam Records asked him to cook up another Ghostface Killah mixtape, the sh*t was a no-brainer. Getting ready to launch off onto tour with The Ironman as Ghostface prepares the release of his fifth solo album, Fishscale. Sponsored by Def Jam, this mixtape features 28 new tracks, remixes, unreleased joints, classics & freestyles + cameos from Trife, Raekwon, Method Man, GZA, RZA, Inspectah Deck and more. Featuring exclusive J-Love production.

1 - Intro
2 - Hidden Darts [produced by J-Love]
3 - Family Affair feat. Raekwon, Trife, Cappadonna, Sungod
4 - The Champ
5 - Charlie Brown
6 - Starks & Chef feat. Raekwon
7 - Be Easy
8 - Like That (remix) feat. Neyo [produced by J-Love]
9 - Back In The Air feat. Ol' Dirty Bastard
10 - Kilo feat. Raekwon
11 - Struggle
12 - Hidden Darts (remix) Produced By J-Love)
13 - Fire (remix) feat. Trife & J-Love
14 - Come On feat. Cormega [produced by J-Love]
15 - Late Night Arrival feat. Trife & Wigs [produced by J-Love]
16 - Going Strong feat. Trife
17 - 3 Bricks feat. Raekwon & Notorious B.I.G
18 - Black Cream
19 - Hot 97
20 - Cocaine Trafficking feat. Trife
21 - Pass The Mic feat. Trife , Cappadonna , Wigs
22 - Run 4 Cover feat. Method Man , Redman Street Life
23 - Missing Watch feat. Raekwon
24 - Abduction - feat. RZA, GZA, Inspectah Deck, Masta Killa,
25 - Out The Way - feat. Wigs
26 - Strawberries & Cream - feat. Inspectah Deck & RZA
27 - Babies feat. GZA & Raekwon
28 - Lost Chamber feat. Method Man
How To DOWNLOAD