J-Love - "Chef Raekwon": Only Built For The Streets II
Submitted by mfizzel on Thu, 02/09/2006 - 9:11pm.
Mixtape Directory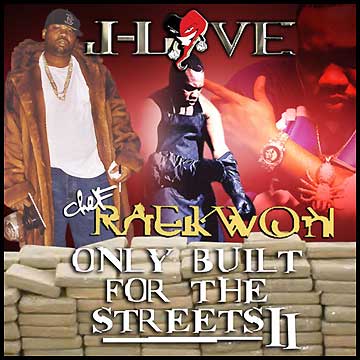 J-Love teams up with original Wu-Tang Clansman, The Chef Raekwon
as these two get into a little mixtape mischief. Bringing you the sequel to
one of the hottest Wu-Tang joints on MixUnit, this mixtape features 30
new joints, including freestyles, unreleased cuts, remixes and originally
produced tracks by J-Love himself. If you're a Wu fan, pick this CD up!

1 - Intro
2 - Heavyweights (produced by J-Love)
3 - Baggage Handlers [unreleased]
4 - Starks & Chef [unreleased]
5 - State Of Grace [unreleased]
6 - Spit Flames feat. Ice Water [unreleased]
7 - 1000 2 Million [unreleased]
8 - Kilo feat. Ghostface Killah
9 - Kids Thats Rich [unreleased]
10 - 3 Bricks feat. Ghostface Killah & Notorious B.I.G. [unreleased]
11 - Weed [unreleased]
12 - Apple Jax [unreleased]
13 - Range Rover [unreleased]
14 - Who Would Have Thought [unreleased]
15 - Rock Steady feat. Method Man & U-God
16 - Six 6's [unreleased]
17 - Intoxicated feat. Method Man & Ol' Dirty Bastard [unreleased]
18 - Advance Pawns feat. GZA & RZA
19 - Enemy [unreleased]
20 - What You In Fo feat. RZA & Method Man
21 - Nasty Immigrants feat. 12 O'Clock
22 - Ain't No Joke [unreleased]
23 - Wu Tang Production [unreleased]
24 - Life's Hectic feat. Inspectah Deck [unreleased]
25 - Hollow Bones feat. Inspectah Deck & Ghostface Killah
26 - Nighttime Vultures feat. Mobb Deep
27 - The Hilton feat. Ghostface Killah
28 - The Game feat. Ghostface Killah & Prodigy
29 - Sneakers
30 - Diesel feat. Wu Tang Clan
31 - North Star
How To DOWNLOAD