Mick Boogie & Tapemasters Inc. - Ghostface Killah: The Broiled Salmon Mixtape
Submitted by mfizzel on Tue, 03/28/2006 - 12:29am.
Mixtape Directory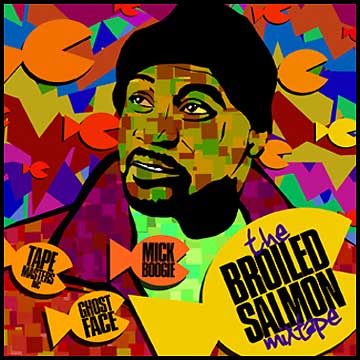 Mick Boogie and Tapemasters, Inc. are joined by Ghostface
Killah as Pretty Tony hosts and narrates this musical tale of the
career of one of the Wu-Tang Clan's founding members. This CD
rediscovers some lost Ironman classics, sheds light on the rarest
gems, remixes a few classics and gets you ready for Fishscale.

1 - Mick Boogie Intro
2 - Ghostface Intro
3 - Ghostface feat. Nas, AZ & Raekwon - The City [produced by Hasan Insane]
4 - Ghostface feat. Raekwon - Clips of Doom
5 - Ghostface & Trife - Milk 'Em
6 - Ghostface, Raekwon & Fat Joe - Clientele Kids (Shotti & Lefty remix)
7 - Ghostface & Busta Rhymes - Blow His Head Off [produced by Green Lantern]
8 - Ghostface & Fishscale, part 1 (Interlude)
9 - Ghostface feat. Raekwon, O.D.B., Cappadonna & Inspektah Deck - 9 Milli Niggaz
10 - Ghostface & Raekwon - Real Nillaz
11 - Ghostface & Raekwon - The World (Mick Boogie mix)
12 - Ghostface feat. Trife - Dawn
13 - Ghostface - The Struggle
14 - Ghostface & The Ghostface Doll (Interlude)
15 - Ghostface - Say Hi
16 - Ghostface & Neyo - Get Down Like That
17 - Ghostface & Neyo - Back Like That (Mick Boogie classic mix)
18 - Ghostface feat. Redman & Stat Quo - Flatline (Mick Boogie mix)
19 - Ghostface & Trife, part 1 (Interlude)
20 - Trife - Drugs
21 - Trife & Saj Supreme - Dartsmen (Mick Boogie mix) [produced by The Kickdrums]
22 - Trife The God Speaks (Interlude)
23 - Ghostface & Big L - Apollo Kids 2006 (DJ Lil' Raskal Mix)
24 - Ghostface, Raekwon & Cappadonna - Wu Is Here [produced by AC]
25 - Ghostface & Fishscale, part 2 (Interlude)
26 - Ghostface - The Champion
27 - Ghostface & Raekwon - Eldarado
28 - Ghostface, Lupe Fiasco & Mike Shinoda - Spray Paint
29 - Ghostface and the Internet (Interlude)
30 - Ghostface & MF Doom - The Mask
31 - Ghostface & MF Doom - Angeles
32 - Ghostface & Trife, part 2 (Interlude)
33 - Ghostface & Scarface - Face Off [original unreleased version]
34 - Ghostface & The Commissioner (Interlude)
35 - Ghostface & O.D.B. - Back In The Air
36 - Ghostface & Sheek - Movie Niggaz
37 - Ghostface & Trife - Fire
38 - Ghostface & El-P - Hida Ya Face
39 - Ghostface feat. Raekwon & Lil' Wayne - Run, part 2 [unreleased]
40 - Ghostface Outro
How To DOWNLOAD