Kochece - Prequel 2 The Best Of Both Hoods (Juelz And Jeezy)
Submitted by mfizzel on Tue, 11/29/2005 - 4:48pm.
Mixtape Directory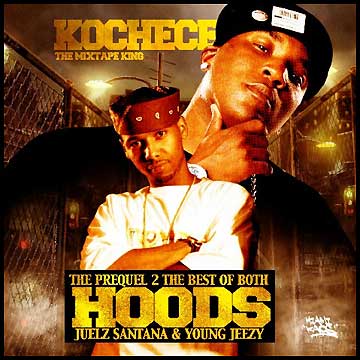 Kochece beats everybody to the punch and laces you with the preview
to the upcoming mixtape from Drama & Green Lantern featuring Young
Jeezy & Juelz Santana. This mixtape is preview of what is guaranteed to
be the biggest mixtape since Rap Phenomeneon, breaking down 25+ cuts
between the two hood stars. Freestyles, anthems, classics & club hits!!

1 - Kochece - Welcome to Newlanta (Intro)
2 - Juelz Santana & Young Jeezy - Best of Both Hoods
3 - Juelz Santana & Young Jeezy - Show U How
4 - Juelz Santana - Murder, Murder
5 - Young Jeezy - I'm A Boss
6 - Juelz Santana & Young Jeezy - Get Money
7 - Juelz Santana - Clockwork
8 - Young Jeezy - Last Of A Dying Breed
9 - Juelz Santana - Shots Fired
10 - Young Jeezy - Don't F**k With Me
11 - Young Jeezy - Diamonds (remix)
12 - Juelz Santana feat. Jim Jones - Streets On Fire
13 - Young Jeezy feat. T.I. - Over Here
14 - Juelz Santana - Uhh Ahh
15 - Young Jeezy - Do The Damn Thing
16 - Juelz Santana - Shottas
17 - Young Jeezy - Tear It Up
18 - Juelz Santana - Problems
19 - Young Jeezy - Trap Or Die
20 - Juelz Santana - Back Like Cooked Crack
21 - Juelz Santana feat. Paul Wall - Don't Give A F**k
22 - Juelz Santana & Young Jeezy - Mic Check (remix)
23 - Young Jeezy, Jay - Z & Mariah Carey - Shake It Off (remix)
24 - Juelz Santana - There It Go (The Whistle Song)
25 - Young Jeezy - Go Crazy
26 - Kochece - The Set - Up (The Preview)
How To DOWNLOAD