Mick Boogie & Busta Rhymes: King Of The Remixes
Submitted by mfizzel on Sun, 06/11/2006 - 7:14pm.
East Coast | Mick Boogie | Mixtape Torrents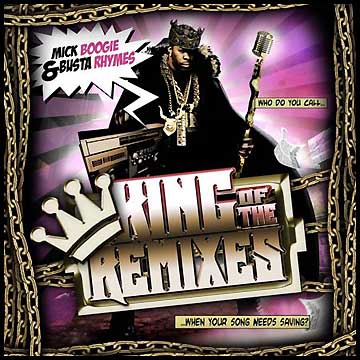 Who Do You Call....When your track needs saving? Why, naturally you'd call on the King Of The Remixes, Busta Rhymes. Mick Boogie calls on the support of The Flipmode General to whip up this wicked mixtape, which almost needs no introduction.
Busta's held down damn near EVERY hot remix in the past decade-plus, so the man is Remix Royalty. This mixtape gives you a taste of all the classic Busta reworks with the man himself riding shotgun to tell you about the tracks with all the different artists he's annointed..
Featuring classic remixes and collaborations with Busta Rhymes and stars such as A Tribe Called Quest, Talib Kweli, Ying Yang Twins, 50 Cent, SWV & Jay-Z, Joe Budden, .

1 - Mick Boogie Intro
2 - Busta Rhymes Intro
3 - Simon Says feat. Pharoahe Monch
4 - You're The One feat. SWV & Jay-Z
5 - Vivrant Thing feat. Q-Tip
6 - Holla Holla feat. Ja Rule
7 - Busta Discusses Scenario & the late Kid Hood
8 - Scenario feat. A Tribe Called Quest
9 - The Afterparty feat. Tracey Lee
10 - Wait feat. Yin Yang Twins
11 - Get Low feat. Yin Yang Twins and Elephant Man
12 - Fire It Up
13 - Busta Discusses 'Flava In Your Ear'
14 - Flava In Your Ear feat. Notorious B.I.G. & Craig Mack
15 - C'mon With The C'mon feat. Artifacts
16 - Ol' Time Killin feat. Kardinal Offishall
17 - Get By feat. Talib Kweli & Jay-Z
18 - Put 'Em On feat. Large Professor
19 - Vibin' feat. Boyz II Men, Method Man & Treach
20 - Busta Discusses 'Ante Up'
21 - Ante Up feat. MOP & Remy Ma
22 - Bad Boy For Life feat. Diddy & MOP
23 - Don't Cha feat. Pussy Cat Dolls
24 - Watchalike feat. Kardinal Offishall
25 - Fire feat. Joe Budden
26 - Indian Gal feat. Elephant Man
27 - Never Leave You feat. Lumidee
28 - Busta Discusses 50 Cent
29 - Hail Mary feat. 50 Cent
30 - Never Scared feat. Bonecrusher, Cam'ron & Jadakiss
31 - Like A Pimp feat. David Banner
32 - Laffy Taffy feat. D4L
33 - Getting' Some Head feat. Shawnna
34 - Busta Rhymes Outro
How To DOWNLOAD