Mick Boogie and Gakcity.com Present Curtis Santiago - HAVE MERCY!
Submitted by mfizzel on Thu, 04/23/2009 - 9:38am.
General | Mick Boogie | Mixtape Torrents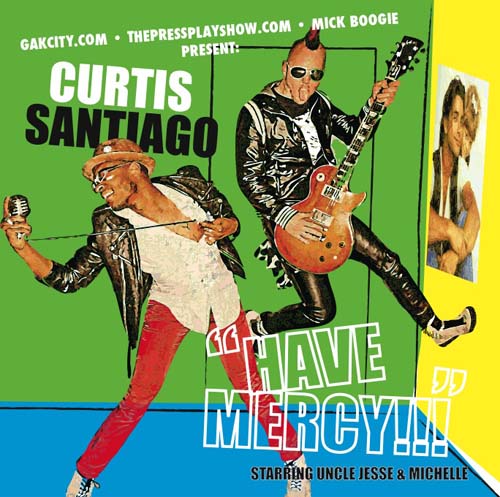 "Have Mercy" - An Evening With Curtis Santiago from Kevin Lewandowski on Vimeo.
Hit the break for more info on this project
Everyone is looking for the next big thing in music. So Gakcity.com,
thepressplayshow.com , and Mick Boogie came together to present music's next
big superstar Curtis Santiago with an eclectic rock, soul, and hip hop inspired
mix cd.
After one listen to Curtis's remakes of hit songs by artists' such as T.I., The
Killers, Lykke Li, Kings of Leon, Santogold, Kanye West, & many others mixed
with a few of Curtis's original songs you will see why this mix cd is called
"HAVE MERCYYY!"
Curtis Santiago is a Canadian born musician and an accomplished artist.
Curtis's paintings have helped open doors for his music and vice versa. No
matter the comparisons you attempt to draw from Prince to Lenny Kravitz to the
Fresh Prince, Curtis Santiago's music and art explode with color & depth, and
will make you want more!
01 Intro 1
02 T.I. Vs Curtis Santiago - Whatever You Like (Produced By Skullkrushers) 1
03 The Killers Vs Curtis Santiago - Human (Feat. Mickey Factz, Produced By
Illangelo) 1
04 Kings Of Leon Vs Curtis Santiago - Sex On Fire (Produced By Skullkrushers) 1
05 Santogold Vs Curtis Santiago - L.E.S. Artistes (Feat. Kevvy Mental, Produced
By Skullkrushers)) 1
06 Crystal 1
07 Southbeach 1
08 Tko 2.0 (Feat. Thrasher, Produced By Skullkrushers) 1
09 Lykke Li Vs Curtis Santiago - Lil Bit (Produced By Skullkrushers) 1
10 Kid Cudi Vs Curtis Santiago - Day N Nite (Produced By Skullkrushers) 1
11 Annabel 1
12 Outro (Curtis Santiago - Have Mercy 1
13 Tegan And Sara Vs Curtis Santiago - Like O, Like H (Produced By
Skullkrushers) 1
14 Kanye West Vs Curtis Santiago - Bad News (Produced By Skullkrushers) 1
How To DOWNLOAD