Cambatta - The Visionary (Hosted By DJ Nice & Legend)
Submitted by mfizzel on Tue, 01/27/2009 - 3:20pm.
General | DJ Nice | Mixtape Torrents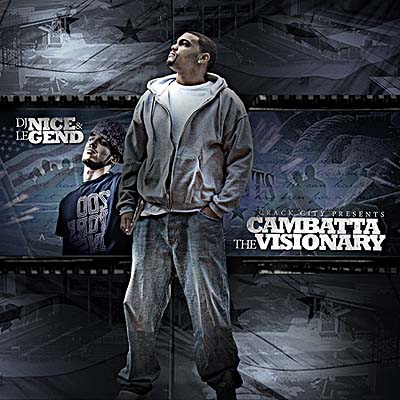 At a time when hip hop is gradually moving back to the lyrics ... Its story must
be foretold thru the voice of a lyrical visionary. The debut project from
Cambatta titled "The Visionary" (Mixtape) features :
Skyzoo, Torae, Reks, Nickelus F, and many more notable artists. Also not to
forget, production from Scram Jones, Dame Grease, DJ Nice, and a load of
original material fresh material from up and coming producers on the independent
scene. "The Visionary" will surely not disappoint as it brings back the essence
of a true hip hop project with an artist whose lyrical capability surpasses
expectations.

Cambatta - "Man On Fire" [Prod By DJ Nice] from DJ Nice on Vimeo.
1. "The Visionary Intro"
Produced By D.K.
2. "Who Am I"
Produced By Boonie Mayfield
3. "Smooth Flight" Ft Torae
Produced By Soul Academy
4. "Man On Fire"
Produced By DJ Nice Of Crack City
http://vimeo.com/1397330 [Music Video]
5. "Something Serious" Ft Nickelus F
Produced By E7 Of Crack City
6. "Reasons" Ft Rain
Produced By Boonie Mayfield
7. Rain On Your Mind"
Produced By Guilty J
8. "Be Like"
Produced By Timeless
9. "Voice Of God"
Produced By Scram Jones
10. "Art Of Bars"
Produced By D.K.
11. "Black Boy Lost"
Produced By Eddie Deuce
12. "Do or Die" Ft Reks
Produced By Timeless
13. "Righteous Kill" Ft Hunt & Vic Damone Produced By Dame Grease
14. "Something You Can Feel" Ft Pat Swayze Produced By Congregation
15. "The One"
Produced By Crooked T
16. "Rapstar" Ft Sixx
17. "Nothing Can Stop Me"
Produced By Boonie Mayfield
18. "True Magic" Ft Skyzoo
Produced By Boonie Mayfield
19. "Dreams" Ft Fiona
Produced By Timeless
20. Talk To'Em
Produced By Timeless
21. "Depression"
Produced By J-Cuse
22. "Fly Ish"
Produced By D.K
23. "True Magic Remix" Ft Skyzoo
Produced By Hollis
How To DOWNLOAD