Ty Fyffe Presents - The Pyrex (Hosted By Superstar Jay)
Submitted by mfizzel on Sat, 01/30/2010 - 8:17pm.
General | Superstar Jay | Mixtape Torrents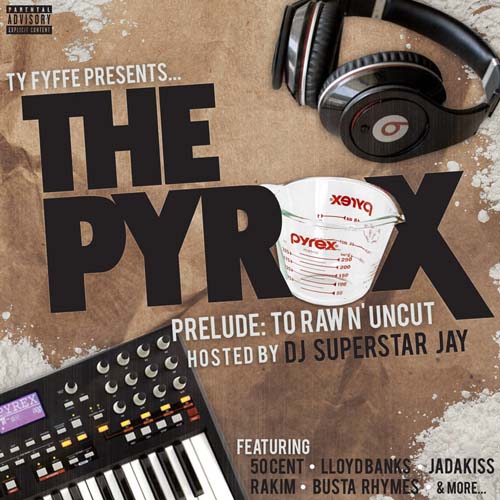 Super Producer Ty Fyffe recently announced the launch of his latest project Raw N' Uncut. The global online music competition offers aspiring artists the opportunity of a lifetime. Each artist selected will receive an exclusive track produced by Ty Fyffe that will be featured on the Raw N' Uncut full-length compilation. Raw N' Uncut will be hosted by DJ Kay Slay, and the single will be promoted by Digiwaxx.
As a prelude to this exciting competition, Ty Fyffe has teamed up with DJ Superstar Jay to release "The Pyrex", a mix-tape which offers a glimpse at some of Ty Fyffe's productions featuring music from 50 Cent, Lloyd Banks, Jadakiss, Rakim, and Busta Rhymes to name a few. "The Pyrex" highlights the undeniable talent of producer Ty Fyffe and sets the tone for what we can expect from his latest project Raw N' Uncut.
Hit the break for Ty Fyffe's video promoting The Pyrex
Superstar Jay, Pyrex Promo from Ty Fyffe on Vimeo.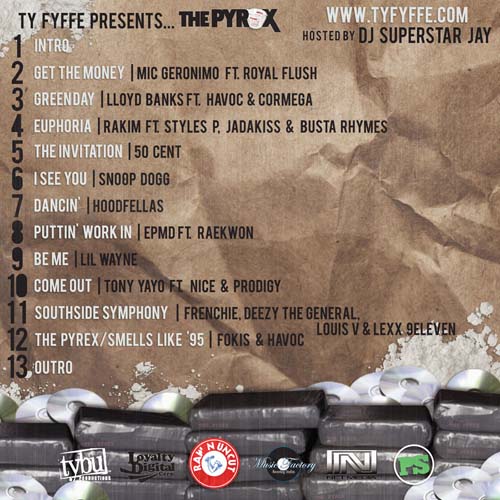 01 Superstar Jay - Intro
02 Mic Geronimo Ft. Royal Flush - Get The Money
03 Lloyd Banks Ft. Havoc & Cormega - Green Day
04 Rakim Ft. Styles P, Jada Kiss & Busta Rhymes - Euphoria
05 50 Cent - The Invitation
06 Snoop Dogg - I See You
07 Hoodfellas - Dancin'
08 Epmd Ft. Raekwon - Puttin' Work In
09 Lil' Wayne - Be Me
10 Tony Yayo Ft. Nice & Prodigy - Come Out
11 Frenchie, Deezy The General, Louis V & Lexx 9Eleven - Southside Symphony
12 Fokis & Havoc - The Pyrexsmells Like 95
13 Superstar Jay - Outro
How To DOWNLOAD