Mick Boogie & T.I.: The Tipping Point
Submitted by mfizzel on Sat, 09/23/2006 - 6:06pm.
Dirty South | Mick Boogie | Mixtape Torrents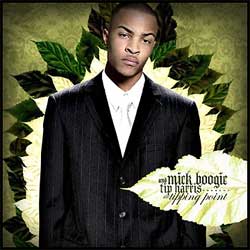 For the fans of Grand Hustle's #1 Hustler and the ATL's Rubberband
Man, this mixtape from T.I. is something serious. The part-time
multi-platinum rapper slash part-time blockbuster actor slash full-time
King of the South is live in the flesh to official jump off this
major mixtape.
The leader of P$C is on the scene to host and narrate this mixtape,
and thus this mixtape represents The Tipping Point, or the moment
at which T.I.'s career really takes off.
Creatively pieced together by the concept king Mick Boogie, this
mixtape brings you the ultimate collection of T.I. tracks and
remixes, including several exclusive Mick Boogie remixes as well
as rare and unreleased joints.

1 - Mick Boogie & T.I.: Tipping Point Intro (produced by Shuko)
2 - T.I. & Young Dro: My Girl Got A Girlfriend
3 - T.I. & Young Buck: Get Your Mind Right (Mick Boogie mix)
4 - T.I. and Juelz Santana: Right Now (Mick Boogie mix)
5 - T.I. and Traxter: Pimps Up
6 - DJ Drama/Mick Boogie interlude
7 - T.I., Lil Wayne & Pusha T: Cannon (Mick Boogie mix)
8 - T.I. Introduces The Remix
9 - T.I. feat. Q-Tip: Why You Wanna (Mick Boogie mix)
10 - T.I. & Slim Thug: The Connection (produced by Sonny Crack)
11 - Diddy Talks About T.I.
12 - T.I. & Young Dro: Rubberband Banks (Mick Boogie mix)
13 - T.I. & Young Dro: Shell
14 - T.I. Talks About Grand Hustle
15 - T.I. & Big Kuntry: Yeah (Wally Sparks mix)
16 - T.I.: Fuck The Government
17 - Bianca/Grand Hustle Interlude
18 - T.I. & BG: Where You At?
19 - T.I. & Brasco: Pimpin
20 - T.I. Talks About His Mixtapes
21 - T.I. feat. Travis Barker: What You Know? (Jimmy Kimmel version)
22 - T.I. & Young Dro: Dip Slide Ride Out
23 - T.I. & Young Jeezy: Top Back (Mick Boogie mix)
24 - T.I. & Eve: Cash Flow
25 - T.I. feat. Jay-Z: The Good Life (Mick Boogie mix)
26 - T.I. Talks About Rashad
27 - T.I. & Rashad: Tell Em (Live Band mix)
28 - T.I. & DJ Quik: Indiscretions
29 - T.I. & Ciara: Kings and Queens
30 - T.I. feat. Governor: Hello (Live Band Mix)
31 - Governor feat. T.I.: You Got The Power
How To DOWNLOAD