Mr Peter Parker Presents Eminem - The E-Tox (A Prelude To Relapse)
Submitted by diabol1cal on Wed, 04/15/2009 - 12:58pm.
General | Mixtape Torrents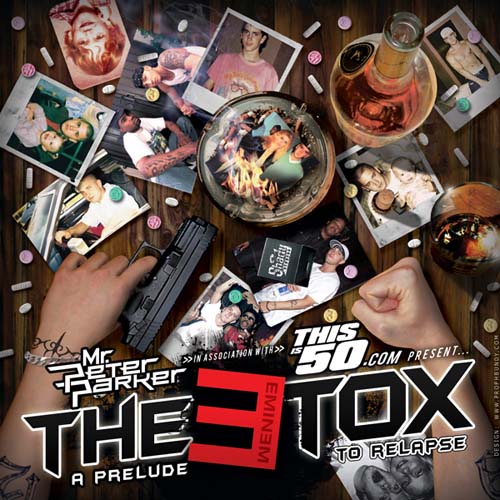 As a prelude to Eminem's 1st album in 4 years, "Relapse", Shadyville DJ Mr. Peter Parker has compiled a collection of Em's early material. Somewhere between 1996 and 1999, after his failed album Infinite ('95) and hitting rock bottom personally, Eminem developed his Slim Shady alias as an alter ego. These new songs recorded as "Shady" are the ones that began to get him national underground attention that would eventually lead to his signing with Dr. Dre and Aftermath/Interscope records. These are all the original Slim Shady freestyles and demo sond songs from that era.
01 Intro
02 Low Down And Dirty
03 Journey Verse
04 Murder, Murder
05 Just The Two Of Us
06 Til Hell Freezes Over
07 Death Becomes Me
08 Old World Disorder
09 Watch Dees
10 Filthy Verse
11 5 Star General Verse
12 Scary Movies
13 The Last Hit
14 Bad Influence
15 She's The One
16 Rush Ya Click
17 Any Man
18 Sway & Tek Freestyle #1
19 Sway & Tek Freestyle #2
20 Sway & Tek Freestyle #3
21 Missy Shit
22 Sway & Tek Freestyle #4
23 Strech Armstrong Freestyle & Interview
24 Just Rhyming With Proof
25 Kool Kid Freestyle
26 Light Speed
27 Sway & Tek Freestyle #5
28 Hate Me Now Freestyle
29 Pick It Up (Live)
30 If I Get Locked Up Tonight
31 The Kids
32 I'm Havin' A Relapse
33 Crack A Bottle
34 We Made You
How To DOWNLOAD