Papoose - A Bootleggers Nightmare
Submitted by mfizzel on Tue, 11/29/2005 - 12:33pm.
Mixtape Directory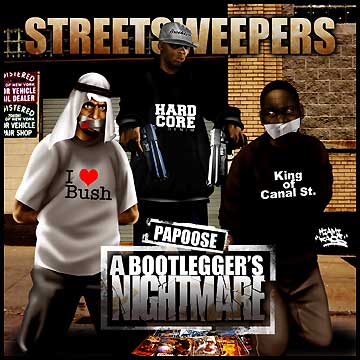 DJ Kay Slay and his problem child Papoose, the reigning Underground
Mixtape Artist of the Year, floods the streets with heat, pumpin' out his
7th official joint. This mixtape is again packed with all-new and exclusive
joints from the Kid, including freestyles + tracks featuring legends Bun
B & Ghostface, new sizzurp w/ Paul Wall + joints w/ Remy Martin & WC.

1 - Intro - DJ Kay Slay
2 - A Bootlegger's Nightmare (produced by Charlemange)
3 - Nyc Drama (produced by The Directors)
4 - We Are The Streets feat. Bun-B, Maino & WC (produced by C-4)
5 - In The Bushes feat. Ghostface (produced by Green Lantern)
6 - You Can't Murder Me (produced by Amadeus)
7 - Mind Body & Soul (produced by 88 Keyz)
8 - Body Bluffin (produced by The Heatmakerz)
9 - No Competition feat. Remy Martin (produced by Stay Gettin)
10 - Chess (produced by Emile & DJ Kay Slay)
11 - Wuts On Your Mind feat. The Ranjahz (produced by Emile & DJ Kay Slay)
12 - Ridin Shotgun feat. Paul Wall (produced by Skitzo)
13 - Nation Of Thug-A-Cation feat. Thug-A-Cation
14 - That Nigga Pap, Nigga Pap
15 - Lets Shoot A Fair One feat. Rockz
16 - Return Of The Living Dead (produced by The Heatmakerz)
17 - Outro - DJ Kay Slay
How To DOWNLOAD