DJ Rell - Streets Are Talking 3
Submitted by jada1212 on Fri, 02/22/2008 - 1:36pm.
Dirty South | DJ Rell | Mixtape Torrents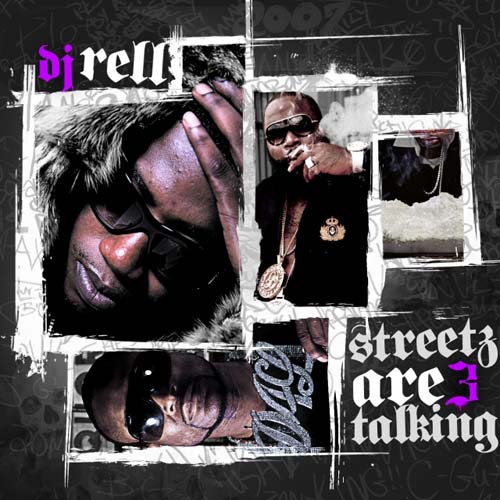 1.INTRO (STREETS IZ TALKIN 3)
2.CRACK POT - GUCCI MANE FT. FIEND, COURTNEY MONEY
3.LETS GET IT '08 - SHAWTY LO FT. RICK ROSS
4.WHERE U FROM (RMX) - RICK ROSS FT. LIL BOOSIE
5.FOOLISH - SHAWTY LO
6.KICK A DOOR - GUCCI MANE
7.THA BOSS (RMX) - RICK ROSS FT. ARMSTRONG, MOOK BOY
8.ALL I HAVE IN THIS WORLD - RICK ROSS
9.I BE WORKIN - GUCCI MANE
10.DEY KNOW - SHAWTY LO
11.GO HAM ON'EM - GUCCI MANE
12.STREET MONEY - RICK ROSS
13.I GO HARD - GUCCI MANE
14.DUNN DUNN – SHAWTY LO
15.MONEY MAKE ME CUM - RICK ROSS
16.FRISBEES - GUCCI MANE
17.WOW (RMX) -SHAWTY LO
18.FREEZER - GUCCI MANE
19.DAT BOY - RICK ROSS
20.FEELS GOOD TO BE HERE - SHAWTY LO
21. GOT'EM FOR THE L O - SHAWTY LO FT. GUCCI MANE, STUNTMAN
FLY BOY ENT.
22.BIG FACE 100s - TITUS BOYS
23.CANNON – ARMSTRONG
24.COLORS - GUCCI MANE (WORLD PREMIERE)
How To DOWNLOAD