Three 6 Mafia - A Collection of Hits (Mixed By DJ dLux)
Submitted by getmoney407 on Wed, 04/08/2009 - 8:39am.
Dirty South | Mixtape Torrents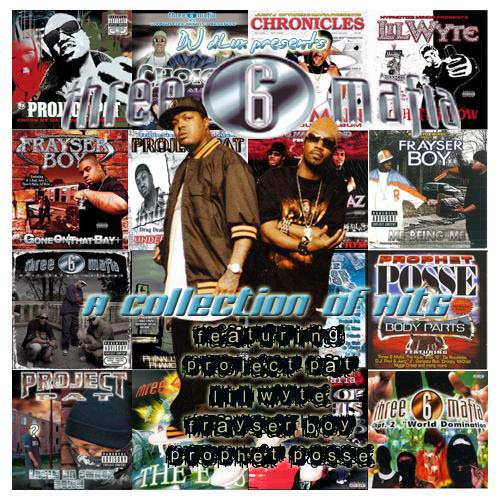 Its been 2 years today that I dropped this classic for the Fiends. I know a lot of people have joined the site since then so I figured I'd re-upload it for anybody who missed it.
1. Pimptro - Project Pat
2. 44 Killers - Three 6 Mafia
3. Be a Witness - The Kaze
4. Da First Date - Three 6 Mafia
5. War Wit Us - Three 6 Mafia
6. We Aint Playin - Lil Wyte
7. Fight - Project Pat
8. That How It Happen To'm - Da Headbussaz
9. Ten Toes Tall - Lil Wyte
10. Smoke My Dro - Lil Wyte
11. Smokin On Da Dro - Three 6 Mafia
12. We Aint Scared Hoe - Project Pat
13. Gorilla Pimp - Project Pat
14. Life We Live - Project Pat
15. Sucks On Dick - Juicy J
16. Rinky Dink Records/We Gon' Rumble - Project Pat
17. Murderer, Robber - Project Pat
18. N 2 Deep - Three 6 Mafia
19. Lock Down - Three 6 Mafia
20. I'm a Playa - Paul Wall feat. Three 6 Mafia
21. Mean Mug - Three 6 Mafia
22. Where Da Bud At? - Three 6 Mafia
23. Half on a Sack - Three 6 Mafia
24. Aint From My Hood - Project Pat
25. Choices II Interlude/Crash The Club - Lil Wyte
26. Who Run It - Three 6 Mafia
27. Stay Focused - Frayser Boy
28. Closed Mouth blended th You Scared Part II - Frayser Boy
29. Drive By - Project Pat
30. North, North Part II - Juicy J
31. Tell, Tell, Tell - Project Pat
32. Elbow a Nigga - Tear Da Club Up Thugz
33. Fuck Yall Hoes - Three 6 Mafia
34. Gold Shine - Project Pat
35. Act Like U Know Me - Three 6 Mafia
36. Blame It On Da Bay - Lil Wyte
37. Land of the Lost - Three 6 Mafia
38. Tongue Ring - Three 6 Mafia
39. Stanky. Stanky - Lil Wyte
40. Squeeze It - Three 6 Mafia
41. Choices Interlude/Aggrivated Robbery - Project Pat
42. Pass Me - Three 6 Mafia
43. Baby Mama - Three 6 Mafia
44. Motivated - Three 6 Mafia
45. Jealous Ass Bitch - Three 6 Mafia
46. Sippin on Some Syrup - Three 6 Mafia
47. Stay High - Three 6 Mafia
48. Who We Be - Hypnotize Camp Posse
How To DOWNLOAD