DJ Laz & A-Mafia - Mafias Town 2
Submitted by mfizzel on Fri, 08/25/2006 - 7:33am.
Dirty South | DJ Laz | Mixtape Torrents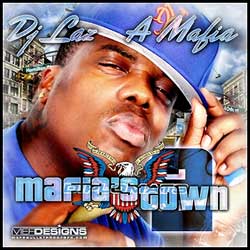 Following up on the popular success of Mafia's
Town with DJ Laz, '40th Boy' A-Mafia is back
in the building with another banger to introduce
himself to the mixtape world. Affiliated with the
Diplomats for those who don't know, this
Harlem "Gentleman's Thug" is unleashing
another lyrical thrashing with this mixtape.
In conjunction with Centerstyle Records, Laz
and A bring you Mafia's Town #2, a prequel to
the upcoming Dipset project from A-Mafia,
rumored to be called Harlem To Hollywood.
This mixtape features 20 new, exclusive or
unheard joints.

1. A-Mafia - Intro
2. A-Mafia - Freestyle
3. A-Mafia - Papparrazi
4. A-Mafia - Don't Get Carried Away
5. A-Mafia - '06 Or Better
6. A-Mafia - Get'em Mafia
7. A-Mafia - Interlude
8. A-Mafia - Mafia's Town Freestyle
9. A-Mafia - Triumph
10. A-Mafia - Shoot At You Actors
11. A-Mafia - Out The Bank
12. A-Mafia & Chubby - Lifes Like A Game
13. A-Mafia - Stay Coming
14. A-Mafia - '06 Chevy
15. A-Mafia - Put Me In Da Feds
16. A-Mafia - Interlude
17. A-Mafia - Hot Boyz
18. A-Mafia - Diamonds
19. A-Mafia - Harlem To Hollywood
20. A-Mafia - Outro
How To DOWNLOAD